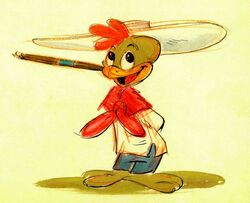 Miguelito Maracas
was to be a fourth member to
The Three Caballeros
group that would have appeared in a third Latin American film,
Cuban Carnival
. However, with the Good Neighbor Program ending with World War II and the Three Caballeros losing money at the box office, the film was never made. He was designed by legendary Disney animator
Fred Moore
.
Personality
Miguelito, originally to represent cockfighting, was a scrappy rooster. He also owned a tobacco plantation, which was where he would meet Donald Duck, José Carioca and Panchito Pistoles to begin their adventure.
Gallery
Ad blocker interference detected!
Wikia is a free-to-use site that makes money from advertising. We have a modified experience for viewers using ad blockers

Wikia is not accessible if you've made further modifications. Remove the custom ad blocker rule(s) and the page will load as expected.