Middleton Space Center
Comments

0
19,105pages on
this wiki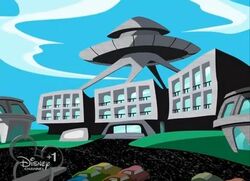 The Middleton Space Center
is a space center on the television show
Kim Possible
. It is located somewhere inside the cityof
Middleton
. One of its employees are Dr.
James Timothy Possible
, better known as the father to Kimberly Ann Possible, Jim Possible, and Tim Possible.
It has also trained a chimpanzee, Frederick, as an astronaut, who was already sent into outer space.
It even has a Robotics Department, as well as a the world's most powerful electro magnet, which has at one time depantsed Ron, by removing his belt.
It has also hired Dr. Vivian Francis Porter as a scientist in the Robotics Department.
Felix Renton 's mother, Mrs. Renton, also works in the Cyber-Robotics Division of the Middleton Space center.
Some of the big-shot bosses are:
Gallery