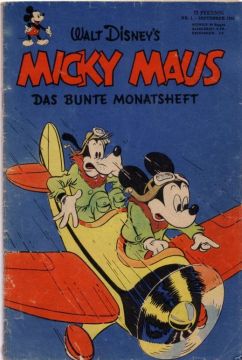 Micky Maus Magazin is a weekly German-language comic-magazine, published by Ehapa-Verlag since September 1951. The mag features Disney comics centering around Donald Duck, Mickey Mouse and other residents of Duckburg. Originally just called "Micky Maus," the publication bears the subtitle "Magazin" since 1993. Each week, an "extra" (poster, small toy, bag of Sea-Monkeys, or something similar) is included.
Gallery
Main article: Micky Maus Magazin/Gallery
External links
Ad blocker interference detected!
Wikia is a free-to-use site that makes money from advertising. We have a modified experience for viewers using ad blockers

Wikia is not accessible if you've made further modifications. Remove the custom ad blocker rule(s) and the page will load as expected.