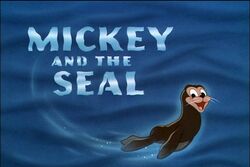 "Mickey and the Seal" is a color Mickey Mouse animated short. It was released in 1948.
Plot
While Mickey visits a zoo, a little seal stows away in his picnic basket and travels to his house with him. Pluto discovers the creature, but Mickey can't understand what his dog is trying to tell him and eventually kicks him out of the house for making a mess. Later, Mickey unknowingly shares his bathtub with the seal for a baffling bath. Once Mickey finally discovers the creature, he and Pluto take him back to the zoo, but the seal and all his seal friends beat them back to their house to take over Mickey's bathroom.
Characters
Trivia
Releases
Television
Home video
VHS
DVD
Gallery
Ad blocker interference detected!
Wikia is a free-to-use site that makes money from advertising. We have a modified experience for viewers using ad blockers

Wikia is not accessible if you've made further modifications. Remove the custom ad blocker rule(s) and the page will load as expected.