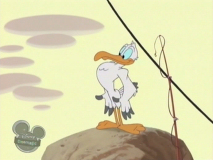 Mickey and the Seagull is a short originally featured in the eighteenth episode of Mickey Mouse Works (later repeated in the twenty-third episode). It was later seen in the House of Mouse episode "Donald Wants to Fly".
Synopsis
Each tugboat is the fleet is assigned a seagull from the flock. Even Mickey, who gets a replacement gull when his regular one is wheelchair-bound following an accident, caused by the replacement gull.
Ad blocker interference detected!
Wikia is a free-to-use site that makes money from advertising. We have a modified experience for viewers using ad blockers

Wikia is not accessible if you've made further modifications. Remove the custom ad blocker rule(s) and the page will load as expected.