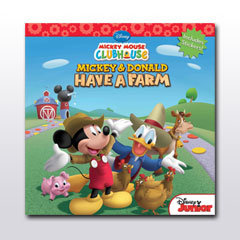 Mickey and Donald Have a Farm is the first episode from the fourth season of Mickey Mouse Clubhouse.
Plot
When the powerful wind from Pete's Giant Windmill accidentally sends all of the animals on the new Clubhouse Farm flying to different places, Mickey and his pals set out to find and rescue them.
Characters
Mouseketools
A handy fishing pole
A blimpy-blazer for clothes flying
A soft blanket
Pete's Giant Windmill
Trivia
This is the first episode in which Mickey Mouse is voiced by his current voice actor, Bret Iwan.
Before the Windmill blew away all the animals there were 3 cows on one of the farm's corrals, but 2 of them disappear during and after the event and they don't appear again (not even in the end).
Toodles is now a recurring character in this episode and onwards cause he has his face and voice except the opening title.
Wayne Allwine's voice in the title has been replaced by Bret Iwan as well as the Mousekadoer song.
Gallery
Ad blocker interference detected!
Wikia is a free-to-use site that makes money from advertising. We have a modified experience for viewers using ad blockers

Wikia is not accessible if you've made further modifications. Remove the custom ad blocker rule(s) and the page will load as expected.