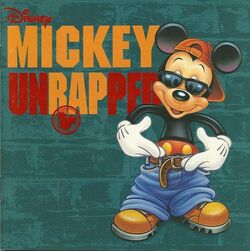 Mickey Unrapped is a 1994 Walt Disney Records album featuring rapping songs featuring Mickey Mouse and his friends.
Details
Audio CD (September 20, 1994)
Original Release Date: 1994
Number of Discs: 1
Format: Import
Label: Walt Disney Records
ASIN: B000001M17
Track listing
Ice Ice Mickey - Minnie
Minnie Mouse In The House - Mickey Unrapped
Whoomp! (There It Went) - Tag Team
Whatta Mouse - Minnie
Bowwow To The Beat - Mickey Unrapped
D.J. Goof - Goofy
Ducks In The 'Hood - Huey, Dewey, and Louie
M.C. Mickey - Mickey
U Can't Botch This - Goofy/Mickey/Minnie
Little Red Rappinghood - Red/Wolf
Mickey Mouse Club Mix - Mary Mary/Mickey/Minnie/Goofy
The Color Of Music - Color Me Badd
Ad blocker interference detected!
Wikia is a free-to-use site that makes money from advertising. We have a modified experience for viewers using ad blockers

Wikia is not accessible if you've made further modifications. Remove the custom ad blocker rule(s) and the page will load as expected.