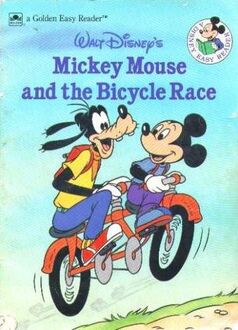 Mickey Mouse and the Bicycle Race
is a Disney Easy Reader book.
Synopsis
Mickey and Goofy have a two-vs-two bicycle race against Donald and Daisy. To Mickey's annoyance, though, Goofy keeps making him stop so that he can make sure he has his lucky penny, eat a sandwich, and read a book about racing. They manage to catch up to Donald and Daisy, but then Goofy tells Mickey to stop again, because he just saw Ferdie sitting on the ground looking sad. Ferdie explains to them that his kite is stuck in a tree nearby, so Mickey and Goofy get it down. Donald and Daisy win the race, and after Minnie gives them their prizes, she also gives prizes to Mickey and Goofy for helping Ferdie.