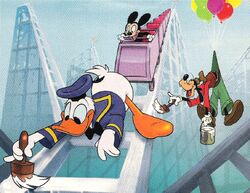 Disney's Mickey Mouse Works
was a television show that features the cartoon character
Mickey Mouse
and his friends in a series of animated segments. It is somewhat of an update of
Mickey's Mouse Tracks
.
Mickey Mouse
,
Minnie Mouse
,
Donald Duck
,
Daisy Duck
,
Goofy
,
Pluto
, and
Ludwig Von Drake
all star in their own segments.
Horace Horsecollar
,
Clarabelle Cow
,
Huey, Dewey and Louie
,
Chip 'n Dale
,
Scrooge McDuck
,
Peg Leg Pete
,
Humphrey the Bear
,
J. Audubon Woodlore
,
Dinah the Dachshund
,
Butch the Bulldog
,
Mortimer Mouse
and
Clara Cluck
all appear as supporting characters.
Premise
Mickey Mouse Works was made to recreate the golden age of Disney's animated shorts, featuring some of Disney's most popular characters. By using basic colors and the original sound effects, tremendous effort was put forth to capture the look and feel of the classic Disney cartoons.
Each half-hour episode consisted of a variety of cartoons, varying in length from ninety seconds to twelve minutes. These shorts fell into three general types: the brief gag cartoons, the longer character-based cartoons, and the more classically-based "Mouse Tales" (usually the show's longest segment). The character-based segments also included "Silly Symphonies," carrying on the tradition of that series of theatrical shorts.
The gag shorts, which lasted 90 seconds each, were shown with the following umbrella titles:
Mickey to the Rescue: Mickey tries to rescue Minnie from Pete's trap-laden hideout.
Maestro Minnie: Minnie conducts an orchestra of animated, disagreeable instruments.
Goofy's Extreme Sports: Goofy shows off extreme sports to the words of his offscreen narrator.
Donald's Dynamite: Donald's activity is interrupted by the appearance of a well-placed bomb.
Von Drake's House of Genius: Ludwig Von Drake shows off an invention of his which goes haywire.
Pluto Gets the Paper: Pluto goes through a bit of problems trying to fetch the newspaper for Mickey.
With no established schedule or routine, Mickey Mouse Works was designed to look like one spontaneous flow. Adding to that feeling where the show's opening credits, which ended differently each week, the only constant being an elaborate interruption from a spotlight-stealing Donald Duck.
While most skits involved individual characters, some have Mickey, Donald, and Goofy running a special service group. Most Goofy skits have him doing a "how-to" segment, always accompanied by a narrator.
The show aired on the Russian version of The Disney Afternoon block since the block actually aired in the 2000's, and is one of few shows not to air on the Disney Afternoon block in the US but airing on the block in other countries.
Characters
Villains
Animals
Other supporting characters
Narrator
Production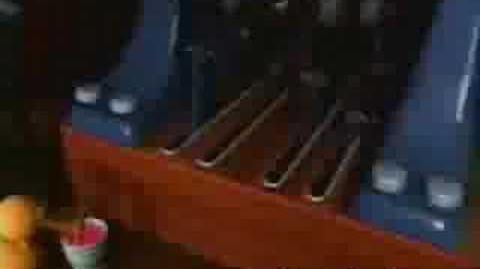 When the show was replaced by House of Mouse in January 2001, many of the Mouse Works shorts were repeated on the new show, with some airing for the first time. However, the original Mouse Works format have never been seen again. But when the shorts were shown right before and after Toon Disney's Big Movie Show on weekdays, they were shown with the Mickey Mouse Works closing credits. Two shorts, Minnie Takes Care of Pluto and the Pluto Gets the Paper segment "Vending Machine", appear to be the only two shorts that did not re-air on House of Mouse, because of the former's dark content. Some Mouse Works shorts were originally presented in full-screen format during their debut and then cropped to widescreen when aired in House of Mouse (since House of Mouse was originally produced in widescreen).
Several of the gag cartoons were released theatrically with various 1999 Disney movies and released to theaters as commercials for the show. These included:
Some shorts are available in Europe on DVD, under the title Mickey's Laugh Factory. While some shorts have the Mickey Mouse Works title card background, others have the House of Mouse version (the Mouse Works version has various mechanics in the background, including one in the shape of Mickey and another with the Mouse Works text inside it. However, the House Of Mouse version has various moving swirls.) [2] Cartoons include Hickory Dickory Mickey, Mickey Tries to Cook, Organ Donors, Mickey's Airplane Kit, Street Cleaner, Mickey's New Car, Bubble Gum, Mickey's Big Break and Mickey's Mix-Up.[3]
On November 11, 2008, the eighth wave of Walt Disney Treasures was released. One of the sets released in this wave, The Chronological Donald, Volume Four, featured a handful of Donald-centric shorts from both Mickey Mouse Works as bonuses - Bird Brained Donald, Donald and the Big Nut, Donald's Charmed Date, Donald's Dinner Date, Donald's Failed Fourth, Donald's Rocket Ruckus, Donald's Shell Shots, Donald's Valentine Dollar, Music Store Donald and Survival of the Woodchucks.
Episodes
Season 1 (1999)
| Episode | Original airdate | Featured segments |
| --- | --- | --- |
| 1 | May 1, 1999 | Donald's accident: Donald attempts to ride through on an elephant with a sign reading "Starring Donald Duck." The elephant sits on him. |
| 2 | May 8, 1999 | Donald's accident: Donald brings down a window blind saying "Starring Donald Duck," which rolls up taking Donald with it. |
| 3 | May 15, 1999 | Donald's accident: Donald sails through on a boat and unfurls the sail which reads "Starring Donald Duck." The sailboat then sinks. |
| 4 | May 22, 1999 | Donald's accident: Donald brings through an elegant flashing electrical sign which says "Starring Donald Duck" and then turns into a time and temperature flasher. |
| 5 | May 29, 1999 | Donald's accident: Donald unfolds an umbrella which says "Starring Donald Duck" which then gets zapped by a lightning bolt. |
| 6 | June 5, 1999 | Donald's accident: Donald plants flowers which bloom into letters that spell "Starring Donald Duck." They are eaten from underneath by a gopher who pops his head up to let out a loud "burp!" |
| 7 | June 12, 1999 | Donald's accident: Donald builds a brick wall on which he paints the words, "Starring Donald Duck." As one might expect, the wall falls over on him. |
| 8 | June 19, 1999 | Donald's accident: Donald drives up in a truck with "Starring Donald Duck" painted on the side. The truck then drives away without him and then returns to run over Donald. |
Season 2 (1999-2000)
| Episode | Original airdate | Featured segments |
| --- | --- | --- |
| 9 | September 11, 1999 | Donald's accident: Donald flies by in an airplane with a banner that reads "Starring Donald Duck." After flying offscreen, the airplane blows up, leaving Donald flying the engine held together with a few left over parts of the plane. |
| 10 | September 18, 1999 | Donald's accident: Donald pulls down a blind that "Starring Donald Duck" which rolls up taking him with it. |
| 11 | September 25, 1999 | Donald's accident: Donald pulls up in a train engine with a car attached to a banner that reads "Starring Donald Duck." But, while cleaning a smudge off of the side of the car, the side falls off, flattening him. |
| 12 | October 2, 1999 | Donald's accident: Donald blows up a balloon which reads "Starring Donald Duck" but he blows it up too far and it explodes. |
| 13 | October 23, 1999 | Donald's accident: Donald drops down a huge block of granite which he carves into a monument which reads "Starring Donald Duck." The monument collapses around him, leaving a pile of rock which reads "Darn Old Duck." |
| 14 | October 30, 1999 | Donald's accident: Donald brings through an elegant flashing electrical sign which says "Starring Donald Duck" and then turns into a time and temperature flasher. |
| 15 | November 7, 1999 | Donald's accident: Donald attempts the boat and sail again, but this time he is squashed by a whale and sent to the bottom of the sea. |
| 16 | December 4, 1999 | Donald's accident: Donald unfolds an umbrella which reads "Starring Donald Duck." The umbrella promptly folds, swallowing him up. |
| 17 | January 22, 2000 | Donald's accident: Donald floats by in a hot air balloon reading "Starring Donald Duck" which suddenly punctures and deflates leaving Donald stranded in mid-air. |
| 18 | February 5, 2000 | Donald's accident: Donald brings down a steel plate which reads "Starring Donald Duck. He rivets this over the regular logo, but not well enough as the plate falls over, flattening him into his hard hat. |
| 19 | February 19, 2000 | Donald's accident: Donald attempts to bring down a series of stage curtains with his name, but is pelted with tomatoes and rotten vegetables before he can. |
| 20 | February 26, 2000 | Donald's accident: Donald rides by on a stagecoach which reads "Starring Donald Duck" on the side. The donkey, however, gets mad and kicks Donald and the coach offscreen. |
| 21 | March 4, 2000 | Donald's accident: Donald lays train track and brings in a train car which reads "Starring Donald Duck." But another set of tracks gets laid in front of it, and another train comes through which runs him down. |
| 22 | March 16, 2000 | Donald's accident: Donald rolls out a magic disappearing box, shuts the curtains (which read "Duck Works"), but when he opens them, an upset Louie the Mountain Lion has appeared. |
Season 3 (2000)
| Episode | Original airdate | Featured segments |
| --- | --- | --- |
| 23 | September 9, 2000 | Donald's accident: Donald blows up a balloon which reads "Starring Donald Duck." But he inhales the contents of the balloon, inflates himself, and blows away. |
| 24 | September 16, 2000 | Donald's accident: Donald rides by in a Goodyear type blimp with an electronic sign that reads "Duck Works." The sign begins to spark, shorts out and fries the blimp. |
| 25 | September 23, 2000 | Donald's accident: Donald floats by in a hot air balloon which reads "Starring Donald Duck." The balloon releases out the bottom and blows him away. |
| 26 | September 30, 2000 | Donald's accident: Donald rolls in a huge cake which reads "Starring Donald Duck." But Clarabelle pops out of it, grabbing Donald and kissing him into a frenzy. |
| 27 | October 7, 2000 | Donald's accident: Donald spray paints the words "Starring Donald Duck" over the official logo, but is then arrested for vandalism. |
Videos
Gallery
Promotional Images
Concept Art
Screenshots
References
v - e - d
Disney Television Animation series