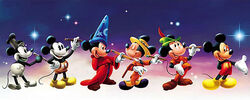 The evolution of Mickey Mouse's design.

Image
As seen in / Year
Notes
Plane Crazy (1928)
The original Mickey design, seen in Plane Crazy, does not wear gloves or shoes. His eyes also appear to take up half of his face.
The Gallopin' Gaucho (1928)
Mickey now wears shoes, though for the first half of The Gallopin' Gaucho, he still has his large-sized eyes. Midway through the short, he switches to the next design below.
Steamboat Willie (1928)
Mickey's eyes are now small black ovals.
The Opry House (1929)
From this short onward, Mickey now wears white gloves, reason being so his hands can be distinguished when drawn in front of his body.
The Karnival Kid (1929)
Here, Mickey's eyes are drawn as "pie eyes", and he now appears to have eyebrows right under the outline of his face. His face would continue to be drawn with the pie-eyes in the newspaper comic strip and various merchandise until his 1939 redesign.
The Wayward Canary (1932)
Mickey's "pie eyes" are back to being black ovals, and the eyebrows have disappeared.
Mickey's Garden (1935)
In the first full-color Mickey short to feature his standard outfit, we see that his gloves are yellow. Note also that the buttons on his shorts are now oval-shaped.
Pluto's Judgement Day (1935)
This short marked the first appearance of a new design for Mickey, in which his body is now a pear-shape, allowing him to appear more flexible. Note that his gloves are still yellow.
Moving Day (1936)
Mickey's gloves are now white again.
Lonesome Ghosts (1937)
The color of Mickey's face has gone to a more fleshtone hue, albeit a pale-looking one.
"Mickey Mouse Meets Robinson Crusoe" (1938)
Starting from the strip published on December 22, 1938, Floyd Gottfredson began drawing Mickey with Fred Moore's new design, the biggest change being that his eyes now have pupils. For the first few strips to use this design, Mickey's pupils are still shaped like sliced pies, but this was quickly phased out.
Mickey's Surprise Party (1939)
In the first animated short to feature Fred Moore's new design for Mickey, we see that he has a more vibrant-looking fleshtone-colored face.
Mr. Mouse Takes a Trip (1940)
Mickey's shoes are now brown instead of yellow.
The Little Whirlwind (1941)
Mickey now has a slimmer body and perspective ears. The latter only lasted for a year.
Mickey's Delayed Date (1947)
Mickey now appears to be drawn at a taller height than before. His ears are now back to the original round shape.
Pluto's Party (1952)
In the last few cartoons of his original run, Mickey has a more angular stylized design and also has eyebrows.
Mickey's Christmas Carol (1983)
In his return to theatrical animation, Mickey's eyebrows are removed, and his drawing style returns closer to the 1940s style.
Runaway Brain (1995)
Mickey's height is now back to the shorter stature, and he has also gone back to his original red shorts and yellow shoes. However, the buttons on his shorts are colored yellow instead of their usual white here.
Mickey Mouse Works (1999)
Mickey and Minnie look almost identical to how they looked in Runaway Brain, but with Mickey's buttons now being white again.
Mickey's Twice Upon a Christmas (2004)
In his first all-CGI feature, Mickey's ears are in perspective mode (a la the 1941-42 shorts) again.
Mickey Mouse Clubhouse (2006)
Mickey and Minnie 's ears are perfectly round again. The buttons on Mickey's shorts are also round again.

For Minnie, her apparel is pink with a button on her bodice.

Epic Mickey (2010)
For this video game, Mickey returns to his 1936 design. The game was intended to also have Mickey gradually change to his original 1928 design or his 1938 design depending on his in-game behavior, but this was scrapped in development.
Epic Mickey: Power of Illusion (2012)
The 2D cutscenes in this game and Epic Mickey 2 depict Mickey with the pie eyes of his 1929 design, though the gameplay still uses the black oval eyes.
Mickey Mouse (2013)
Paul Rudish's stylized designs of Mickey in the new series uses his face from his 1929 design, and also has a noticeably skinnier body. The buttons on his shorts are also yellow again, like in Runaway Brain..
Get A Horse! (2013)
Mickey's design in this part-CGI short is based on the design used in Steamboat Willie, though in the closing shot seen here, he's drawn with the pie-eyes of his 1929 design.
See also