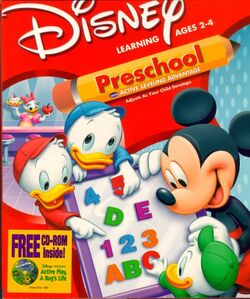 Mickey Mouse Preschool is a 2000 Disney educational computer game featuring Mickey Mouse and his friends.
Product Description
Preschoolers will explore a supportive learning environment in a roadside pit stop off the highway near Mickey's home. While interacting with Mickey and his friends, kids discover over 20 learning skills. The software is based on the Active Learning Method, which encourages kids to explore, discover, and create while they learn. The product enhances memory, listening, and observation skills as well as inspires creativity and imagination. While interacting with Mickey and his friends, kids are learning about 123's, ABC's, colors and shapes and other age appropriate skills. Disney's Mickey Mouse Preschool is filled with activities that build self-confidence by means of continuous positive reinforcement from Mickey and his friends.
Gallery
Ad blocker interference detected!
Wikia is a free-to-use site that makes money from advertising. We have a modified experience for viewers using ad blockers

Wikia is not accessible if you've made further modifications. Remove the custom ad blocker rule(s) and the page will load as expected.