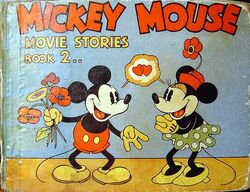 Mickey Mouse Movie Stories is a 1988 Disney book featuring story adpatations of classic Mickey Mouse cartoons from the 1930s. It features an introduction by Maurice Sendak.
Description
Presents several adventures of Mickey Mouse, Minnie Mouse, and Pluto illustrated with drawings from animated films made in the Disney Studios during the 1930's.
Details
Hardcover: 196 pages
Publisher: Harry N Abrams; 1St Edition edition (September 1988)
Language: English
ISBN-10: 0810915294
ISBN-13: 978-0810915299
Ad blocker interference detected!
Wikia is a free-to-use site that makes money from advertising. We have a modified experience for viewers using ad blockers

Wikia is not accessible if you've made further modifications. Remove the custom ad blocker rule(s) and the page will load as expected.