Mickey Mouse Disco
Comment

1
19,105pages on
this wiki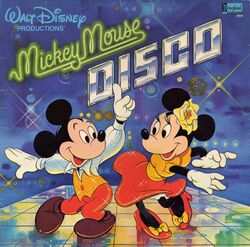 Mickey Mouse Disco is an album released by Disneyland Records in 1979. A late entry in the genre of disco, Mickey Mouse Disco included disco-fied versions of Disney classics and Disney-fied versions of disco classics. Re-released on CD in 1995, this album is currently out of print in all physical formats, but is currently available for download from iTunes.
Track listing
Edit
Arrangement
Edit
Arrangement is done by Dennis Burnside (except "It's a small world").
"Disco Mickey Mouse " - 4:00
"Welcome to Rio" - 3:23
"The Greatest Band" - 4:10
"Zip-a-Dee-Doo-Dah" - 2:13
"Macho Duck" - 4:36
"Mousetrap" - 2:56
"Watch Out for Goofy!" - 3:30
"It's a Small World" - 2:28
"Chim Chim Cher-ee" - 2:10
Music video
Edit
A music video of the album was made in 1980, featuring snippets of "Mousetrap", "Disco Mickey Mouse", "Macho Duck", "Watch Out for Goofy", and "Welcome to Rio", set to clips from the following films:
The music video was released on 16mm and has made several appearances on television, including in episodes of various Disney cartoon compilation shows, such as Mickey's Mouse Tracks and Donald's Quack Attack. The music video disappeared into obscurity when Quack Attack was removed from Toon Disney's schedule in 2002, and it has yet to be released on DVD.
| | |
| --- | --- |
| | This page uses content from the English Wikipedia. The original article was at Mickey Mouse Disco. The list of authors can be seen in the page history. As with DisneyWiki, the text of Wikipedia is available under the GNU Free Documentation License. |