Mickey's Speedway USA is a Disney racing game for the Nintendo 64 and Game Boy Color, developed by Rareware and published by Nintendo. The Game Boy Color version of this game is a sequel to Mickey's Racing Adventure (which was released in 1999 for the Game Boy Color only). It is styled after other kart racers such as the Mario Kart series, and Diddy Kong Racing, which was also made by Rareware.
Gameplay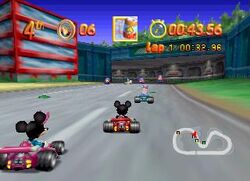 Mickey's Speedway USA includes a Grand Prix mode, as well as multiplayer racing and battle modes. The game features six initial characters, with a further four being unlockable. The default characters are paired in likeness, and each pair is given the same statistics, such as Donald and Mickey having average statistics, or Pete and Goofy having a concentration in speed.
Synopsis
Mickey Mouse's dog, Pluto, is kidnapped by the Weasels for his "diamond" collar (later found out to be fake). As one of the drivers, including Disney characters such as Mickey, Minnie, Donald, Daisy, Goofy and Pete, the player races on tracks in the United States, based on locations such as New York, Alaska, Los Angeles, and Seattle, to find the Weasels and save Pluto.
Characters
Default
Unlockable
Worlds
Traffic Troubles: Indianapolis, San Francisco, New Mexico, Grand Canyon
Motor Way Mania: Los Angeles, Alaska, Las Vegas, Philadelphia
Victory Vehicles: Yellowstone, Washington, D.C., Everglades, Malibu
Multiplayer Contest: Dockyard, White House, Arena, Steamboat
Time Trial only: New Orleans
Games Elements
| Image | Item | Description |
| --- | --- | --- |
| | Token delivery | You can get three tokens maximum speed up. |
| | Sprinter | Race car to be run fast between explosive little. |
| | Shield shell | It becomes the invincible state temporarily. |
| | Paint Spo-cha business | Any Race car that pass over this slips. |
| | Baseball Chucker | It will destroy the race car if it hits. |
| | Trace Chaser | If it ran toward the front of the race car and let slip to the race car to hit. |
| | Magno Flyer | The airplane flies along the course, and then attacks the race car forward. |
| | Stormy Weather | You can slow down the speed of the race car of all running forward. |
Reception
Mickey's Speedway USA's average score on Metacritic is 71/100%. IGN gave Mickey's Speedway USA 6.8 out of 10.
Awards
The game's only award (as evident in volume 144 of Nintendo Power) is a Nintendo Power Award for 2000's Best Video Game based on a Cartoon, with Scooby Doo! Classic Creep Capers and Tom and Jerry in Fists of Furry as the two runner-ups.
Gallery
| | |
| --- | --- |
| | This page uses content from the English Wikipedia. The article or pieces of the original article was at Mickey's Speedway USA. The list of authors can be seen in the page history. As with Disney Wiki, the text of Wikipedia is available under the GNU Free Documentation License. |