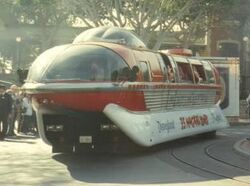 Mickey's Mouseorail
was a promotional vehicle that traveled around the United States promoting
Disneyland
's 35th Anniversary in
1990
. The Mouseorail was actually the front car of the
1969
Mark III
Monorail Red, the last of the Mark IIIs to operate on the
Disneyland Monorail System
before being replaced by the
Mark V Monorails
. It was converted into a road vehicle and was featured in the 1990
Tournament of Roses Parade
before making a trip around the country and finally ending its tour at Disneyland on
July 17
, 1990.
The Mouseorail's automotive parts were later removed, and the entire vehicle was painted blue and orange to resemble a blueprint, and was placed in the queue for Rocket Rods in 1998. Rocket Rods' queue was largely a tribute to transportation history and the Imagineering history of Tomorrowland attractions. The front car of the Mark III also sat alongside similarly-repainted Rocket Jets and PeopleMover vehicles and giant Imagineering vehicle blueprints featuring numerous Tomorrowland attractions such as Space Mountain and Flying Saucers.
Gallery
Ad blocker interference detected!
Wikia is a free-to-use site that makes money from advertising. We have a modified experience for viewers using ad blockers

Wikia is not accessible if you've made further modifications. Remove the custom ad blocker rule(s) and the page will load as expected.