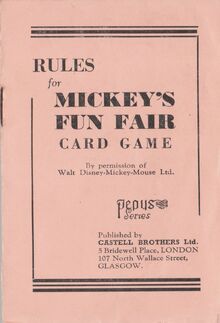 Mickey's Fun Fair is a 1939 Disney card game, part of the Pepys card game series produced by Castell Brothers, Ltd. in the UK. The illustrations features characters from the Mickey Mouse, Donald Duck, and Silly Symphonies shorts as of 1938, as well as Snow White and the Seven Dwarfs.
Gallery
Ad blocker interference detected!
Wikia is a free-to-use site that makes money from advertising. We have a modified experience for viewers using ad blockers

Wikia is not accessible if you've made further modifications. Remove the custom ad blocker rule(s) and the page will load as expected.