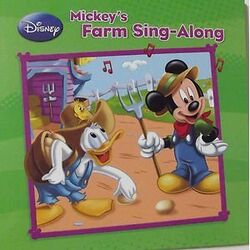 Mickey's Farm Sing-Along
is a hardback and paperback book.
Plot
Several well-known nursery rhymes tunes replaced with new "Mickey Mouse on the Farm" inspired words added for fun.
Songs
Ol' Duck Donald Had a Farm
P-L-U-T-O
Minnie Had a Little Lamb
The Farmers Chip 'n Dale
If Your Goofy and You Know it, Wag Your Tail!
Ain't It Great to be Daisy
Do Yer Ears Hang Low
Tow, Tow, Tow your Hay
Details
Hardcover: 24 pages
Publisher: Dalmatian Press
ISBN-10: 1403781044
ISBN-13: 978-1403781048
ASIN: B008GUCN4C
Ad blocker interference detected!
Wikia is a free-to-use site that makes money from advertising. We have a modified experience for viewers using ad blockers

Wikia is not accessible if you've made further modifications. Remove the custom ad blocker rule(s) and the page will load as expected.