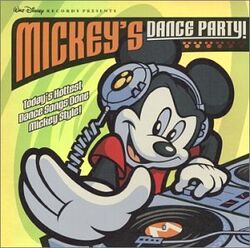 Mickey's Dance Party is a 2001 Walt Disney Records album featuring Disney versions of the hottest dance songs.
Details
Audio CD (August 28, 2001)
Number of Discs: 1
Label: Walt Disney Records
ASIN: B00005NHL1
Track listings
Yo! Mickey - Julie Griffin
We Want Mickey (I Want Candy) - Julie Griffin
Mickey's Gonna Dance Now (Gonna Make You Sweat) - Alkebulan
Let's Have A Party (We Like To Party) - Julie Griffin
Rapamagical - Alkebulan
Divas & Dudes Medley - Julie Griffin
Life Is A Rock (But The Radio Rolled Me.....Again) - Randy Crenshaw
Who Woke Snow White Up (Who Let The Dogs Out) - Baha Men
Mickey's Got The Beat (Dancing In The Street) - Myra
Blue (Da Ba Dee) - Julie Griffin
Hip-Hop Happy Birthday - Ruben Martinez
Mickey (That's His Name) - Marco Marinangeli
Ad blocker interference detected!
Wikia is a free-to-use site that makes money from advertising. We have a modified experience for viewers using ad blockers

Wikia is not accessible if you've made further modifications. Remove the custom ad blocker rule(s) and the page will load as expected.