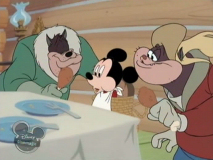 Mickey's Cabin is a short from Mickey Mouse Works and House of Mouse starring Mickey Mouse.
Plot
After getting tricked into saving Pete from a snowstorm, Mickey is captured and snowbound with Pete and his cousin Zeke who have stolen an ATM machine. However, Mickey outwits the two Pete cousins in various techniques (e.g. getting the cash out of the ATM, checking the food freshness, framing each other, dividing out the money) and lastly, trapping them in jail.
Ad blocker interference detected!
Wikia is a free-to-use site that makes money from advertising. We have a modified experience for viewers using ad blockers

Wikia is not accessible if you've made further modifications. Remove the custom ad blocker rule(s) and the page will load as expected.