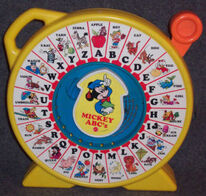 Mickey's ABC
is a See 'N Say toy made by
Mattel
. It was based on the classic See 'N Say alphabet toy,
The Bee Says.
Mickey Mouse
points at the letter and the item that starts with that letter.
Dialog
Here are the dialog from Mickey's ABC (When you point at one of these letters and pulled the lever).
A: "A is for Apple!"
B: "B is for Boy!"
C: "C is for Cat!"
D: "D is for Dog!"
E: "E is for Egg!"
F: "F is for Frog!"
G: "G is for Girl!"
H: "H is for House!"
I: "I is for Ice Cream!"
J: "J is for Jam!"
K: "K is for Kite!"
L: "L is for Lion!"
M: "M is for Moon!"
N: "N is for Nest!"
O: "O is for Orange!"
P: "P is for Pig!"
Q: "Q is for Queen!"
R: "R is for Rabbit!"
S: "S is for Sun!"
T: "T is for Train!"
U: "U is for Umbrella!"
V: "V is for Violin!"
W: "W is for Watch!"
X: "X is for X-Ray!"
Y: "Y is for Yarn!"
Z: "Z is for Zebra!"
Ad blocker interference detected!
Wikia is a free-to-use site that makes money from advertising. We have a modified experience for viewers using ad blockers

Wikia is not accessible if you've made further modifications. Remove the custom ad blocker rule(s) and the page will load as expected.