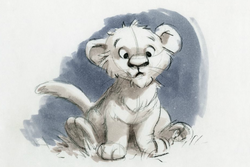 "...and the ones he leaves behind, love interest Nala, her mischievous kid brother Mheetu, and her wisecracking companion Bhati, a Bat-eared Fox"
―Mouse Under Glass
Mheetu (also called Mee-Too and Me too) is Nala's deleted younger brother.
Appearance
According to his colored concepts, Mheetu has pale reddish/orange fur as well as a black nose. As for his uncolored concept art, he is shown to have an Outlander nose like Scar and a small hair tuft.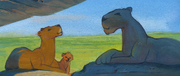 In his newly revealed concept art, Mheetu has dark golden fur and what appears to be green eyes as well as a black nose.
Personality
From his concepts and previous places in the story, Mheetu is shown to be gullible and innocent as well as playful. The Laser Disc, however, says Mheetu was constantly getting into trouble, which means he could be as mischievous as Simba or simply clumsy like Tojo.
Information
Concentration Camp
"Initially, Nala had a little brother that I included so she could protect him from Scar. There was a lot in the Pride Lands while Simba is away with Timon and Pumbaa, but it was too depressing. How do you animate a concentration camp?"
―Linda Woolverton on Mheetu

Mheetu was present in an earlier draft of The Lion King when the film was called King of the Jungle, and still in its very early stages. He was created by Linda Woolverton specifically so Nala, his older sister, could protect him from the deadly clutches of Scar or his hyenas.
This idea was dropped because Woolverton felt that, after Mufasa's death, the film had gotten too dark. Also, she didn't know how to go about animating a concentration camp, thus this idea was dropped and they decided to focus of Simba and his new friends instead of Nala and her brother.
Nala/Simba's Gang
"At one time, Simba had a whole menagerie of friends, including another lion cub (Mee-Too) and a bat-eared fox"
―The Art of The Lion King
"His best friend Nala (or Nadra) and her companions: her little brother Mheetu and a bat-eared fox"
―The Lion King Laserdisc
Before Scar murders
Mufasa
and takes over, Mheetu was a part of Nala's (then named Nadra) gang a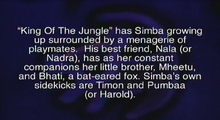 longside a bat-eared fox named
Bhati
, while Simba's gang consisted of
Timon
and
Pumbaa
(then named Harold). All of these characters were orig
inally scripted to grow up around the prince as childhood friends. Why this idea was scrapped is unclear, however it's likely some characters, like Timon and Pumbaa, were needed and better fit to be introduce later, while other characters, like Mheetu, really had no purpose thus were removed entirely. Also, with so many characters around, it would be difficult to focus on the main character, Simba.
They played Kopje, "King of the Hill" in English, according to the Laserdisc.
Mufasa and Simba save Mheetu
"Mheetu was Nala's "Tag-along" little brother, who was always getting into trouble"
―The Laserdisc on Mheetu
While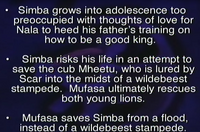 he was still a cub,
Scar
, a rogue lion at this time, managed to lure Mheetu into the gorge, and into a wildebeest stampede. His real intentions were not to have Mheetu killed however, but Simba killed, who was an adolescent at the time. Simba risks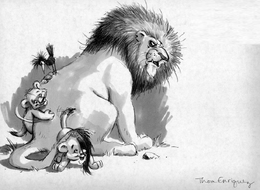 himself to save Nala's brother, but it's
Mufasa
who ultimately rescues the two from their doom.
Trivia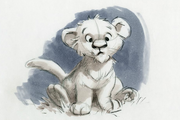 Some argue that Mheetu's concepts are actually concepts of Kimba Disney passed off as a dropped Character, this being supported by Disney's newest release of its Second Screen which calls the cub Simba. However Thom Enriquez, the pictures designer, has confirmed it is Mheetu and there are very few similarities between Kimba and the Mheetu concept:

-Mheetu's concept is simply uncolored; He is not a "White lion". If anything, recent concepts have shown him to be dark yellow or reddish-orange.
-Kimba's ears are tipped Black. Many of Simba and even Nala's concepts mimic this, but none of Mheetu's.
-Kimba's ears are also triangular and jut up while Mheetu's are circular and sag down.
-Mheetu's fur is far more messier than Kimba's ever was in the series.
It is unclear why Mheetu was dropped. Most think because of time constraints but it is most likely because Mheetu had no important role after King of the Jungle was retitled The Lion King. According to Thom Enriquez, Mheetu was deleted because his character was too redundant and his purpose was spread out to there Characters.
Mheetu may not be Nala's full brother as he is only referred to as "brother" by various sources which is not specific as two people can be siblings as long as they share at least one Parent. Nala and Mheetu share Sarafina and Mheetu was deleted when news of Nala's Father came to be. If Mheetu was deleted before Minkoff and Allers were musing about who'd sire Nala (who was then named Nadra), then the two cubs would be half-siblings not full ones.
Mheetu is listed as Nala's little brother in one book, (Mouse Under Glass) and as Simba's in another (A Great Leap). In the film, Simba clearly remarks he's Scar's only nephew and there are more sources outnumbering the book that point to Nala, not to mention the creator of Mheetu, Linda Woolverton, says the cub was Nala's brother. This is a mistake as even Bhati is spelled as "Bahti".
The Art of The Lion King contradicts the Laserdisc release of The Lion King, saying Mheetu was a part of Simba's gang, not Nala's.
Some concepts of Mheetu are mistakenly thrown in with the Simba concept pictures in the Laserdisc(labeled as Simba in some concepts) as the other pictures of exactly the same cub, such as the nearest to the upper right, are not present with it. Also, the previous and approaching concepts are radically different.
Also Thom Enriquez, Mheetu's designer, has confirmed the cub as Mheetu, adding he did a few cub Simba images that the public has never seen.
A common rumor is that Mheetu's name is based on the only line he had while he was included in the movie "Me too!". While this certainly corresponds to his tag-along status, there are no sources to prove it.
Gallery
v - e - d
Episodes
Timon & Pumbaa
Season One: "Boara Boara" | "Saskatchewan Catch" | "Kenya Be My Friend?" | "Good Mousekeeping" | "Brazil Nuts" | "South Sea Sick/The Lion Sleeps Tonight" | "Never Everglades" | "Cooked Goose" | "Yukon Con" | "Doubt of Africa" | "How to Beat the High Costa Rica" | "Swiss Missed" | "Russia Hour" | "You Ghana Join the Club" | "Uganda Be an Elephant" | "To Kilimanjaro Bird" | "Rocky Mountain Lie" | "Amazon Quiver" | "French Fried" | "Big Top Breakfast" | "Madagascar About You" | "Truth or Zaire/Yummy, Yummy, Yummy" | "Mojave Desserted" | "Beauty and the Wildebeest" | "Don't Break the China" | "Can't Take a Yolk" | "Stand by Me" | "The Pain in Spain" | "Frantic Atlantic" | "Unlucky in Lesotho" | "Rafiki's Apprentice" | "Tanzania Zany" | "Guatemala Malarkey" | "Mombasa-In-Law" | "TV Dinner" | "Back Out in the Outback" | "Gabon with the Wind" | "Timon's Time Togo" | "The Law of the Jungle" | "Manhattan Mishap" | "Paraguay Parable" | "Be More Pacific" | "Going Uruguay" | "Let's Serengeti Out of Here" | "Congo on Like This" | "Okay Bayou?" | "Shake Your Djibouti" | "Yosemite Remedy" | "The Sky Is Calling" | "Mozam-Beaked" | "Ocean Commotion"
Season Two: "Palm Beached" | "Oregon Astray" | "Isle of Manhood" | "Klondike Con" | "Beetle Romania" | "Wide Awake in Wonderland" | "Animal Barn" | "Africa-Dabra!" | "Shopping Mauled" | "Catch Me if You Kenya" | "Monster Massachusetts" | "Forbidden Pumbaa" | "Alcatraz Mataz" | "I Think I Canada" | "Beast of Eden" | "Timon on the Range" | "Maine-Iacs" | "Rome Alone" | "Once Upon a Timon" | "Home is Where the Hog Is" | "Beethoven's Whiff" | "Bumble in the Jungle"
Season Three: "Whiff" | "To Be Bee or Not To Be Bee" | "Luck Be a Meerkat" | "Just When You Thought You'd Cuisine It All" | "Lemonade Stand Off" | "Big Jungle Game" | "Boo Hoo Bouquet" | "Now Sumo Me" | "Now Museum, Now You Don't" | "Visiting Pig-nitaries" | "The Truth About Kats and Hogs" | "Escape from Newark" | "Truth Be Told" | "Circus Jerks" | "Nest Best Thing" | "Super Hog-O" | "Don't Have the Vegas Idea" | "Hot Enough for Ya?" | "Werehog of London" | "Bigfoot, Littlebrain" | "Astro-Nots" | "Robin Hoodwinked" | "Seregenti Western" | "All Pets are Off" | "Two for the Zoo" | "The Swine in the Stone" | "You May Have Already Won Six Million Bakra" | "My Meteor, My Friend" | "Jungle Slickers" | "Don't Wake the Neighbear" | "Recipe for Disaster" | "Going Over-Boar'd" | "Ivy Beleaguered" | "Broadway Bound & Gagged" | "Steel Hog" | "Dealer's Choice Cut" | "Space Ham" | "You Bet Your Tukhus" | "No-Good Samaritan" | "Living in De Nile" | "One Tough Bug" | "Pirates of Pumbzance" | "Miss Perfect" | "Hakuna Matata U." | "Pig-Malion" | "Why No Rhino" | "War Hogs" | "The Big No Sleep" | "Common Scents" | "Mister Twister" | "Don't Be Elfish" | "Lights, Camera, Traction" | "The Running of the Bullies" | "Special Defects" | "Wishy Washy" | "Ice Escapades" | "Guru Some" | "Jailhouse Shock" | "Nearly Departed" | "Early Bird Watchers" | "The Spy's the Limit" | "Ready, Aim, Fire" | "Timoncchio" | "Ghost Boosters" | "Stay Away from my Honey!" | "Sitting Pretty Awful" | "He's a Bad, Bad, Bad Sport" | "Dapper Duck Burgers" | "It Runs Good" | "Hot Air Buffoons" | "Timon in Love" | "Kahuna Potato" | "Mook Island" | "Cliphangers"
The Lion Guard
Season One: "Never Judge a Hyena by its Spots" | "The Rise of Makuu" | "Bunga the Wise" | "Can't Wait to be Queen" | "Eye of the Beholder" | "The Kupatana Celebration" | "Fuli's New Family" | "The Search for Utamu" | "Follow That Hippo!" | "Call of the Drongo" | "Paintings and Predictions" | "The Mbali Fields Migration" | "Bunga and the King" | "The Imaginary Okapi" | "Too Many Termites" | "The Trouble With Galagos" | "Janja's New Crew" | "Baboons!" | "Beware the Zimwi" | "Never Roar Again"