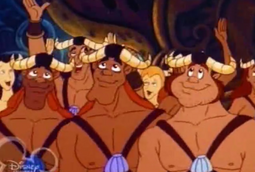 Mervikings are merpeople of Valhalla, known as the Land of the Heroes, but also known for being dangerous. They first appeared in The Little Mermaid, in the episode "Heroes".
Appearances
Apollo, Ariel, and Flounder go on an adventure to Valhalla, the land of the heroes. Going through several dangerous obstacles, Ariel noticed that he did not speak much, and was inclined to give up. Ariel is courageous and curious, and persuades him to continue. When they got there, with Ursula watching them on the crystal ball, they are captured by the Mervikings, and Apollo tells to Ariel that his victory for the Atlanticans was an accident. They only left after the Vikings discovered that he was the Apollo, and the condition was if he defeated the Sea Dragon. Ursula revives the Octopids and gives them eight magic tridents; but Apollo defeats them with his new dragon. Now Apollo is a real hero!.
Personality
The Mervikings are barbarous and evil, since when their leader arrived to see the prisoners, Ariel and Apollo, they were arguing whether they would pitch them to the sharks, the barracudas or hang them in a lava pit to make fry. They discovered that he was the Apollo, and the condition to left was if he defeated the Sea Dragon. But after he defeated the dragon he was more adored, than being more hated, the Vikings even sang a song for him in his farewell. So initially the Vikings are villains unless their bravery is proven.
Physical Appearance
They are merpeople with a kind of horns on their heads.