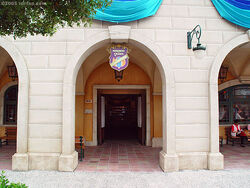 The
Merchant of Venice Confections
is a chop in
Mediterranean Harbor
. This shop is full of candies, chocolates, cookies and more. Inside this shop themed to the city of water, Venice. It doesn't sell anything you won't find at other similar shops, but it is spacious and beautifully decorated and because it's separated somewhat from the main Mediterranean Harbor string of shops it's almost always less crowded. There are lots of places to find sweet treats to eat in the park, but if you want to bring some home I'd recommend a stop in the Merchant of Venice.
Even if you're not going to make a purchase, make sure to stop and get a picture of one of Mediterranean Harbor's best window decorations, Mickey and Minnie in a gondola being guided along by Goofy in the back of the boat. A static display, but very DisneySea.
Gallery
Ad blocker interference detected!
Wikia is a free-to-use site that makes money from advertising. We have a modified experience for viewers using ad blockers

Wikia is not accessible if you've made further modifications. Remove the custom ad blocker rule(s) and the page will load as expected.