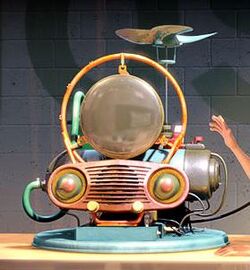 The Memory Scanner is a machine created by Lewis to find his mother. Lewis entered it into Joyce Williams Elementary School science fair. Bowler Hat Guy (under the control of DOR-15) stole it and passed it off as his own.
Function
First, a date is typed into a keypad. Then, the user's helmet scans the brain for the corresponding memory, and displays it on the screen. The image is shown as though the viewer is watching through the user's eyes and listening through the user's ears.
It also appears to be able to record a memory for later viewing, as shown when Lewis watched DOR-15's takeover of the world.
Trivia
The Memory Scanner can also read the memories of machines, shown when Lewis saw the memories of DOR-15's takeover of the world.
Gallery