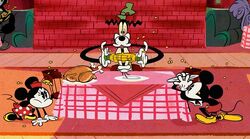 Megan Marie Ward (born September 24, 1969) is an American actress.
For Disney, she portrayed Robyn Sweeney in the 1992 Hollywood Pictures film Encino Man, Pixley Robinson in the ABC TV show Sports Night, Kate Howard in the ABC TV show General Hospital and Daisy in the CBS/ABC Studios TV show Ghost Whisperer.
Ad blocker interference detected!
Wikia is a free-to-use site that makes money from advertising. We have a modified experience for viewers using ad blockers

Wikia is not accessible if you've made further modifications. Remove the custom ad blocker rule(s) and the page will load as expected.