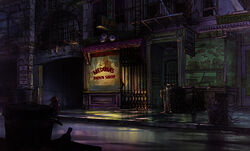 Medusa's Pawn Shop was owned by Madame Medusa and her associate Mr. Snoops in New York. The mices Bernard and Bianca investigating Penny's disparition here, surprise the owner phoning to Mr. Snoop and learnt that she had kidnapped the little girl for to find an ancien diamond. Angry that her purpose was not realized and by Snoops's incompentence, Medusa rejoin The Bayou, unaware she was spied by the mices.
After her defeat, the pawn shop was probably unlocked because Penny informated authorithy and medias on Medusa's sinister activities.
Ad blocker interference detected!
Wikia is a free-to-use site that makes money from advertising. We have a modified experience for viewers using ad blockers

Wikia is not accessible if you've made further modifications. Remove the custom ad blocker rule(s) and the page will load as expected.