Me the Mouse (and I'm the Duck) (Reprise)
Comments

0
19,022pages on
this wiki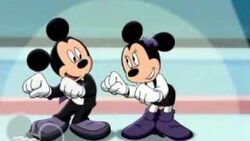 Me the Mouse (and I'm the Duck) (Reprise) is the song from the House of Mouse television series episode "Daisy's Debut" sung by Mickey and Minnie (who filled in for Daisy, who is in a wheelchair and broke her leg as a result for Minnie to do a duet with Mickey).
Lyrics
I say abstract
And I say abstrack
I say compact
I say compack
I say contract
I say contrack
Who cares how you pronounce it?
We might as well announce it!
Together and forever we're stuck!
Even though I'm a mouse
And I'm a duck!

-I'm a duck? Mickey, what is this?
-Just go to the bridge!

Caramel!
Caramel!
New Orleans!
New Orleans!
St. Louis!
St. Louis, see?
Yeah, um, lever!
Liver!
Caribbean?
Caribbean!
Paris, you say parie!
-Oh! Now I say root
And you say route!
-Okay. Don't you poof!
I think you mean pout!
I got it now!
I figured it out!
And as long as we're together
It doesn't matter whether
We're never ever down on our luck
'Cause we're friends
Me the mouse
Ha! And I'm a duck!
-I can't believe I did it! How was that?
-Swell! Really swell.