Me the Mouse (and I'm the Duck)
Comments

0
19,053pages on
this wiki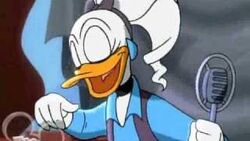 Me the Mouse (and I'm the Duck) is a song from the House of Mouse television series episode "Daisy's Debut". Daisy Duck is given a chance to perform a duet with Mickey Mouse at the club, which makes Minnie Mouse feel left out. Sebastian makes a cameo during the song's bridge.
Lyrics
Has anybody seen
And anybody heard
All the different ways
For saying a word
I tell ya, my friend
It's really absurd
You'll see

I say abstract
I say abstrack
I say compact
I say compack
I would say contract
I say contact
Who cares how you pronounce it?
We might as well announce it!
Forever together we're stuck!
Even though I'm a mouse
And I'm a duck!

I say perfect!
I say perfec!
Well, I say subjects!
I say suggest!
This is so complex.
I say complix.
Who cares the way you say it
Or how the band will play it?
We're buddies and we're not going back!
Even though I'm a mouse and go squeak!
And I will go quack!

Caramel!
Caramel!
New Orleans!
New Orleans!
St. Louis!
St. Louie to me!
Lever!
Leaver!
Caribbean!
Caribbean!
Paris!
Romancing parie!

Well, I say root!
And I say route!
Now don't you poot!
I think you mean pout!
Maybe someday, we'll figure it out
But as long as we're together
It doesn't matter whether
We're never ever down on our luck!
'Cause we're friends
Me the mouse
And I'm the duck!

Bop bop do bop!