Mayor Pink Panda is the stuffed animal mayor of a village in Plush Toy World.
Mayor Pink Panda is a pink plush panda, including a heart-shaped light pink chest with a heart texture. She has dark blue googly eyes, and she wears a teal hat with a light pink flower attached.
Personality
Unlike the rest of the denizens of the Plush Toy World, Mayor Pink Panda isn't usually happy. She is a tad world-weary, though such wear and tear (as it were) likely comes from the stress of running a city. Regardless, she can be friendly when she wants to.
Trivia
v - e - d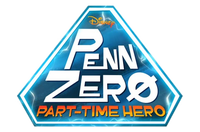 Locations
Middleburg • Middleburg Central High • The Odyssey • Fish Stick on a Stick • North Pole • Knight World • Superhero World • Arabian World • Plush Toy World • Clown World • Dinosaur Cowboy World • Cereal World • Old English World • Giant Monster World • Zombie World • Space World • Ocean World • Color World • Musical Fairy Tale World • Caveman Spy World • Future Barbarian World • Ultrahyperball World • Demon World • Alien World • Galaxy World • Temple World • Dragon World • Gothic Mystery World • Plant World • Animal Barbarian World • Toy World • Outer Space Court World • Robot World • Pirate World • Fairymania World • Steampunk World • Ball World • Ghost World • Rock, Paper, Scissor World • Beast World • Anime World • Sitcom World • Nothingness • Most Dangerous World Imaginable • Least Dangerous World Imaginable
Objects
Multi-Universe Hologram Uplink • Multi-Universe Transprojector • Pigoilet • The QPC Unit • Vortex Tops • Specs