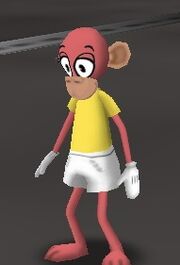 Mata Hairy
is a
Toon
NPC
Monkey
that appears in the
CFO
battle at the game
Toontown Online
.
When entering the CFO battle, she will try to lead Toons to the Cashbot Vault, only being stopped by the CFO. Mata Hairy enters the Vault, while the Toons fight the Cogs sent by the CFO. After the Cog Round, the CFO will enter the Cashbot Vault, and Mata Hairy will be on a Crane. She will tell Toons on how to control the Crane and defeat the CFO. After defeating the CFO, Mata Hairy will reward Toons one of the three phrases:
Toons of the World, Gag Up!
Toons of the World, Toon-Up!
Toons of the World, Spend Wisely!
Trivia
She used to be a chubby, orange Monkey. However, she was remodeled into a slim, lime green Monkey.
She wears a different Cashbot Cog Suit when the elevator opens.
She also wears a different skirt.
These reasons may be unknown. Theories state that it may have something to do with the reward.
It is unknown if she has a shop in Donald's Dreamland (or any other playground).