Mason Makoola
Comments

0
19,044pages on
this wiki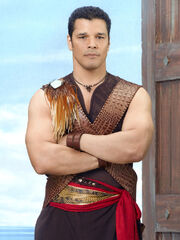 Mason Makoola
was born on February 9, 1970, is tritagonist of series. He's the royal bodyguard and advisor over Kinkow Island. The nickname that Kings Brady and Boomer usually call him is a sasquatch.
History
Season One
In Return of the Kings, he returns Boomer and Brady to Kinkow and makes them the kings of Kinkow. Mason knows that Boomer and Brady are the Kings of Legend. He doesn't like it when Brady is mocking about his daughter since Brady has a crush on Mikayla.
Season Two
Season Three
In the first episode of season 3, it was known that Mason knew that Boomer and Brady have another brother (Boz) because their triplets.
Physical Appearance
Mason Makoola is part Sasquatch. Mason is tall, muscular, with a very deep voice.
Personality
He is wise, strong, good with a machete (he chopped a palm tree and a table in half), and loyal to the kings, Boomer and Brady, though he sometimes gets annoyed by the antics the kings put themselves in. He's also the overpropective father of Mikayla, of whom Brady is not-so-secretly crushing on.He was very close to the twins father.His best friend is Mahama and his enemy.His wife is Enilla and has a son called Mason Jr. He has a younger brother named Jason and they don't get along. He is part sasquash. He was also good friends of Brady and Boomer's parents.
Quotes
"This is thirty six inches of cold hard steel forged from the fires of Mt. Don't Touch My Daughter."
- Return of the Kings
Trivia
People often wonder if his voice is real because it is so deep