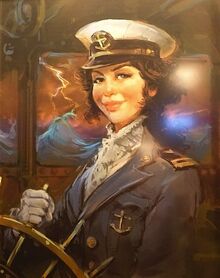 Captain Mary Oceaneer is a member of the Society of Explorers and Adventurers. She is the focal character of the Oceaneer Labs aboard the Disney Cruise Line's ship Disney Magic and the upcoming Miss Fortune Falls raft ride at Typhoon Lagoon.
Appearances
Mary Oceaneer was first introduced as part of the Society of Explorers and Adventurers through a portrait in the queue of Mystic Manor. She was further developed for the Disney Cruise Line with a series of portraits establishing her as a treasure hunter and diver accompanied by her pet parrot Duncan.

Ad blocker interference detected!
Wikia is a free-to-use site that makes money from advertising. We have a modified experience for viewers using ad blockers

Wikia is not accessible if you've made further modifications. Remove the custom ad blocker rule(s) and the page will load as expected.