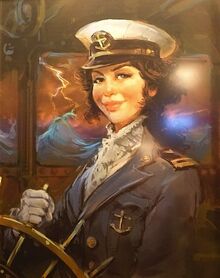 Captain Mary Oceaneer is a member of the Society of Explorers and Adventurers. She is the focal character of the Oceaneer Labs aboard the Disney Cruise Line's ship Disney Magic and the Miss Fortune Falls raft ride at Typhoon Lagoon.
Appearances
Mary Oceaneer was first introduced as part of the Society of Explorers and Adventurers through a portrait in the queue of Mystic Manor. She was further developed for the Disney Cruise Line's Oceaneer Lab with a series of portraits establishing her as a treasure hunter and diver accompanied by her pet parrots Salty and Duncan. The maiden voyage of her Oceaneer Lab ship took place on July 30th, 1898 (a reference to the Disney Magic's maiden voyage) and uncovered buried treasure on Castaway Cay. During the events of another excursion, she was caught in a storm and ended up stranded on Typhoon Lagoon. Recent acquisitions were scattered around the shipwreck site.
Items from Mary can be found in the Skipper Canteen including a map charting legendary beasts of the Mediterranean Sea created by her, a book on parrot care, her leopard-spotted Club fez, and assorted awards gifted to Albert Falls from her.
Gallery
v - e - d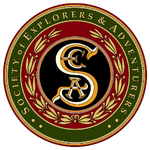 Restaurants
Magellan's • Jock Lindsey's Hangar Bar • Skipper Canteen