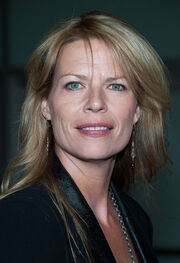 Mary Elizabeth McGlynn is a voice actress, as well as an ADR director and writer.
Among the voices she has played for Disney are Delia from Stitch!, Abigail Brand in The Avengers: Earth's Mightiest Heroes and Arihnda Pryce in the animated series, Star Wars Rebels. She was also a singer for the English dub for Princess Mononoke. She is also the voice director for the Disney XD animated series, Penn Zero: Part-Time Hero and the upcoming Disney Channel animated series, Tangled: The Series.
Gallery
Ad blocker interference detected!
Wikia is a free-to-use site that makes money from advertising. We have a modified experience for viewers using ad blockers

Wikia is not accessible if you've made further modifications. Remove the custom ad blocker rule(s) and the page will load as expected.