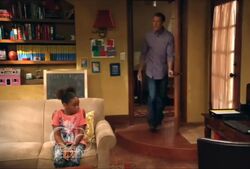 Mary is a minor character in Dog with a Blog. She's portrayed by LeAire George.
Character History
Mary was one of Bennett's patients. Mary was brought in for her phobia of dogs. Bennett helped her overcome her fear and in 2 weeks she becomes very fond of Stan. However, she became obsessive, she once took him away when one was looking, but brought him back.
Stan tried his best efforts to make be afraid of dogs again but it didn't work, but she is afraid of clowns.
Trivia
She's the third known patient of Bennett James. Followed by Rob and Rebecca Davis.
Bennett helped her overcome her phobia of dogs.
Also, she has a phobia of clowns.
Ad blocker interference detected!
Wikia is a free-to-use site that makes money from advertising. We have a modified experience for viewers using ad blockers

Wikia is not accessible if you've made further modifications. Remove the custom ad blocker rule(s) and the page will load as expected.