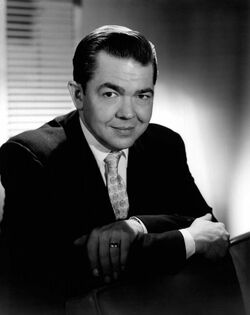 Marvin Miller (July 18, 1913 – February 8, 1985) was an American film and voice-over actor.
His Disney roles included the narrator in Sleeping Beauty, the Disneyland episode "Magic Highway U.S.A." and the Wonderful World of Disney episode "The Proud Bird from Shanghai", as well as himself in the 1959 TV documentary "Disneyland '59".
Ad blocker interference detected!
Wikia is a free-to-use site that makes money from advertising. We have a modified experience for viewers using ad blockers

Wikia is not accessible if you've made further modifications. Remove the custom ad blocker rule(s) and the page will load as expected.