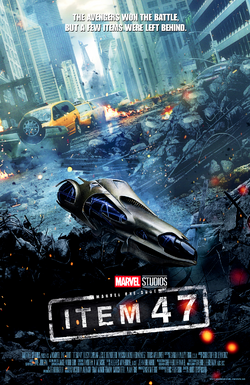 Marvel One-Shot: Item 47 is a short film that is accessable from the Blu-ray DVD of The Avengers.
Plot
A couple retrieved a Chitauri gun after the Battle of New York use unwise decisions with the weapon. Two S.H.I.E.L.D. agents were tasked to finding the criminals so they can redesign the weapon.
Cast
Gallery
Ad blocker interference detected!
Wikia is a free-to-use site that makes money from advertising. We have a modified experience for viewers using ad blockers

Wikia is not accessible if you've made further modifications. Remove the custom ad blocker rule(s) and the page will load as expected.