Ad blocker interference detected!
Wikia is a free-to-use site that makes money from advertising. We have a modified experience for viewers using ad blockers

Wikia is not accessible if you've made further modifications. Remove the custom ad blocker rule(s) and the page will load as expected.
Market House

Disneyland
Land
Main Street, U.S.A.
Theme
Turn of the Century Store
Attraction type
Restaurant
Status
Operating
Cuisine Type
American, Healthy Selections, Vegetarian
Price Range
$14.99 and under per adult
Sun.
7:30-12:00
Mon.
8:30-11:00p
Tues.
9:30-9:00p
Weds.
8:30-9:00p
Thurs.
9:30-9:00p
Fri.
8:30-12:00a
Sat.
7:30 - 1:00a
Annual Passholder Discount
Available
Opening date
July 17, 1955
Hosted by
Starbucks Coffee (Formerly Swift Premium Meats)
Replaced
The Market House (Store)
Market House 
is a counter service
 turn of the century 
Main Street
 style restaurant (as of 2013) that is known for its cups of delicious Starbucks coffee 
and pastries.  The restaurant itself is
located on the north east edge of Main Street U.S.A. near Plaza Inn and Little Red Wagon (aka the Corn dog Cart).  As a counter service coffee stop, the restaurant does not offer reservations and provides limited seating within.
Disneyland Description
Visit Market House where you can find Disney-favourite sweet treats, such as divine cookies and brownies as well as Starbucks signature beverages, delicious artisan breakfast sandwiches and a wide selection of baked goods.
History
The market house first opened its door to Disneyland guests on July 17, 1955 with the opening of Disneyland park.  The restaurant featured a number of unusual antiques including checker boards you could play, an authentic cast iron pot belly stove, and old-fashioned party line telephones you could pick up and listen in on comical pre-recorded conversations.  Originally constructed as a general store the outlet sold kitchen-wear and coffee related items.
On April 15, 2013 however, the store was closed as news was released that a Starbucks Coffee be placed on Main Street in a newly renovated Market House. When the store re-opened later in the year, most of its quaint décor was kept, but it's inside was updated with a larger queue area and more seating, as well as subtle emblems of Starbucks coffee.
Menu
Breakfast Sandwiches & Wraps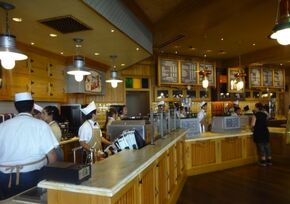 Bacon & Gouda
Ham & Cheddar
Sausage & Cheddar
Spinach, Feta & Cage-Free Egg White
Veggie & Monterey Jack
Assorted Pastries
Almond Croissant
Bagel
Banana Walnut Bread
Blueberry Scone
Blueberry Streusel Muffin
Butter Croissant
Chocolate Croissant
Chocolate Palmier
Cranberry Orange Scone
Everything Bagel
Iced Lemon Pound Cake
Maple Oat Pecan Scone
Morning Glory Muffin
Palmier
Peaches and Cream Muffin
Petite Scone Trio
Petite Trio
Petite Vanilla Bean Scone
Reduced-Fat Banana Chocolate Chip Coffee Cake
Reduced-Fat Cinnamon Swirl Coffee Cake
Reduced-Fat Very Berry Coffee Cake
Seasonal Muffin
Zucchini Walnut Muffin
Assorted Desserts
Apple Tart
Birthday Cake-Pop
Brownie
Chocolate Chip Cookie
Chocolate Créme Whoopie Pie
Chocolate Hazelnut Tart
Cookie Cupcake
Mickey-Shaped Cookie
Mickey-Shaped Seasonal Cookie
Mini Pie - Apple - Cherry
Oatmeal Raisin Cookie
Peanut Butter Cupcake
Red Velvet Cupcake
Red Velvet Whoopie Pie
Seasonal Cake Pop
Seasonal Cookie
Sugar Cookie
Tiramisù Cake Pop
Tiramisù Cupcake
Triple Chocolate Cupcake
Walnut Brownie
Snacks
Apple & Caramel Dipper Pack
Carrot & Celery Dipper Pack
Dannon® Yogurt
Fruit Cups
Hummus
Old Fashioned Chips
Pineapple Spear
Seedless Grapes
Watermelon
Whole Fruit
Yogurt Parfait
Kellogg's® Cereal with small Milk
Starbucks Coffee
Espresso - Signature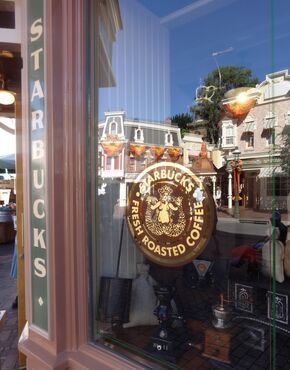 Caramel Macchiato - Tall - Grande - Venti
Iced Caramel Macchiato - Tall - Grande - Venti
White Chocolate Mocha - Tall - Grande - Venti
Cinnamon Dolce Latte - Tall - Grande - Venti
Espresso - Classics
Caffè Latte - Tall - Grande - Venti
Caffè Mocha - Tall - Grande - Venti
Iced Caffè Mocha - Tall - Grande - Venti
Vanilla Latte - Tall - Grande - Venti
Skinny Vanilla Latte - Tall - Grande - Venti
Caffè Americano - Tall - Grande - Venti
Cappuccino - Tall - Grande - Venti
Espresso - Solo - Doppio
Frappuccino® Blended Beverages
Caramel - Tall - Grande - Venti
Mocha - Tall - Grande - Venti
Java Chip - Tall - Grande - Venti
Coffee - Tall - Grande - Venti
White Chocolate Mocha - Tall - Grande - Venti
Mocha Light - Tall - Grande - Venti
Vanilla Bean - Tall - Grande - Venti
Strawberries & Crème - Tall - Grande - Venti
Double Chocolaty Chip - Tall - Grande - Venti
Green Tea - Tall - Grande - Venti
Starbucks Refreshers™
Cool Lime - Tall - Grande - Venti - Trenta
Very Berry Hibiscus - Tall - Grande - Venti - Trenta
Iced Coffee & Iced Tazo® Tea
Iced Coffee - Tall - Grande - Venti - Trenta
Shaken Iced Tazo® Tea - Tall - Grande - Venti - Trenta
Iced Tazo® Tea Lemonade - Tall - Grande - Venti - Trenta
Coffee, Tazo® Tea & More
Freshly Brewed Coffee - Tall - Grande - Venti
Caffè Misto - Tall - Grande - Venti
Tazo® Chai Tea Latte - Tall - Grande - Venti
Full-Leaf Tazo® Tea - Tall - Grande - Venti
Hot Chocolate - Tall - Grande - Venti
Kids' Hot Chocolate
Seasonal
Caramel Flan Latte - Tall - Grande - Venti
Chocolate Caramel Muffin
Chocolate Cinnamon Bread
Salted Caramel Cake Pop
Gallery
Sources