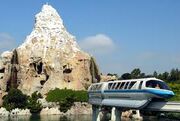 The
Mark V Monorail
was the monorail train model used on the
Disneyland Resort
's
Disneyland Monorail System
starting in
1987
, replacing the
Mark III
trains. The Mark V trains were rebuilt into the 
Mark VII Monorail
trains in
2008
, replacing everything except the chassis (as with the Mark III-Mark V transition). They were designed by
WED Enterprises
and built by
Ride & Show Engineering, Inc.
of San Dimas, California.
Specifications
Four Mark V trains were built: Red, Blue, Orange, and Purple. Each train consisted of five cars. The "Learjet" design of the Mark V trains were based on the appearance of the Mark IV trains used at the Walt Disney World Monorail System from 1971 to 1991. This is why the Mark III monorails were rebuilt as the Mark V monorails, as the designation "Mark IV" was already taken.
Ad blocker interference detected!
Wikia is a free-to-use site that makes money from advertising. We have a modified experience for viewers using ad blockers

Wikia is not accessible if you've made further modifications. Remove the custom ad blocker rule(s) and the page will load as expected.