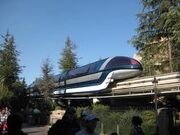 The
Mark VII Monorail
is the latest monorail model in Disney's theme park monorail fleet. It is utilized on the
Disneyland Resort
on the
Disneyland Monorail System
.
The Mark VII trains were built in Canada. The first train, Monorail Red, was delivered to Disneyland on December 20, 2007, and began service on July 3, 2008 after several months of testing and corrections of design problems. Monorail Blue arrived on April 10, 2008 and began service on September 16, 2008. The final train of the Disneyland fleet, Monorail Orange, arrived on August 14, 2008 and began service on April 7, 2009.
The Mark VII trains have semi-retro design that lies somewhere between the more angular Mark Vs and the rounded Mark Is.
A marked difference between the Mark VII Monorail trains and the previous versions is the seating arrangement. Previous versions had seating the ran across the width of the cars. The Mark VIIs have seating the runs the length of the vehicle with one row along the side opposite the doors and another, double sided row running along the centerline of the vehicle.
Ad blocker interference detected!
Wikia is a free-to-use site that makes money from advertising. We have a modified experience for viewers using ad blockers

Wikia is not accessible if you've made further modifications. Remove the custom ad blocker rule(s) and the page will load as expected.