Ad blocker interference detected!
Wikia is a free-to-use site that makes money from advertising. We have a modified experience for viewers using ad blockers

Wikia is not accessible if you've made further modifications. Remove the custom ad blocker rule(s) and the page will load as expected.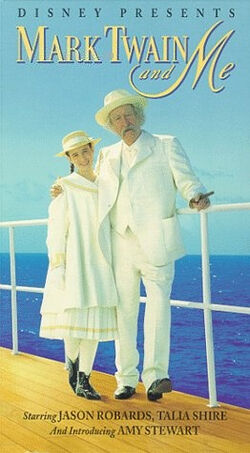 Mark Twain and Me is a 1991 telefilm that originally aired as a Disney Channel Premiere Film on the Disney Channel on November 22, 1991. It was directed by Daniel Petrie and written by Cynthia Whitcomb, based on the book by Dorothy Quick.
Synopsis
Dorothy Quick, a young girl, befriends the famous writer, Samuel "Mark Twain" Clemens, during the final years of his life. In 1908, young Dorothy Quick meets her idol, Mark Twain. And surprisingly, the author finds himself drawn to Dorothy and begins to treat her like the daughter he never had time for. Their special friendship brings Clemens out of his brooding and regrets, and teaches Dorothy about writing and life and how the two are really the same thing.
Cast
Jason Robards ... Mark Twain
Talia Shire ... Jean Clemens
R.H. Thomson ... Albert Paine
Fiona Reid ... Mrs. Quick
Chris Wiggins ... Captain
Amy Stewart ... Dorothy Quick
Anna Ferguson ... Arabella
Chapelle Jaffe ... Sarah Hardwig
Colin Fox ... Dr. Quintard
Susan Coyne ... Miss Hobby
Bunty Webb ... Minnie
Jenny Turner ... Mrs. Woods
Brian Paul ... Ship's Purser
Corinne Conley ... Saleswoman
Michael Polley ... Orchestra Leader
James Mainprize ... Concierge
Lee MacDougall ... Porter
Roy Lewis ... Carriage Man
John Shepherd ... Oxford Dean
Doug Hughes ... Reporter #1
John Bayliss ... Reporter #2
Yank Azman ... Reporter #3 (as Jank Azman)
Kelly Spalding ... Schoolgirl #1
Douglas Campbell
Gallery