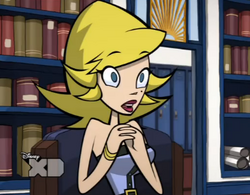 Marci McFist is a supporting character in Randy Cunningham: 9th Grade Ninja. She is voiced by April Stewart.
She is Hannibal McFist's loving wife and Bash Johnson's mother. She is supportive of her husband destroying the ninja, though she is blissfully unaware that her son is the biggest bully in school even when she and Hannibal are often called in by Principal Slimovitz.
Gallery
Ad blocker interference detected!
Wikia is a free-to-use site that makes money from advertising. We have a modified experience for viewers using ad blockers

Wikia is not accessible if you've made further modifications. Remove the custom ad blocker rule(s) and the page will load as expected.