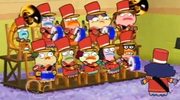 The Freshwater High Marching Band
is a group of band members led by
Lonnie
 in
Fish Hooks
.
Role in the Series
When Milo makes a band after he gets rejected by Lonnie the band leader, he and the marching band come to Milo, Oscar, and Bea and get rid of their instruments. After Milo leaves the music room, every student who got rejected by Lonnie in the band tryout reveal that Lonnie doesn't let anyone play their instruments after he gets rid of them. This makes Milo want to still play his kazoo, but leads Lonnie and the band to destroy it. At band practice, one of the band members, named Wilmur, tells Lonnie that his sousaphone is sticky. Some other band members soon notice that their instruments were covered with honey, which was done by Milo for revenge. Lonnie goes up to Milo and he challenges him and his friends in a "Battle of the Bands" against him and the marching band. He says that if Milo wins, Lonnie will allow everyone to play music. However, if Lonnie and the marching band win, they will never let anyone play their instruments anymore. During the battle, several other students help Milo defeat Lonnie. Milo becomes victorious, so Lonnie is forced to allow everyone to play their instruments again ("Banned Band").
Appearances
Ad blocker interference detected!
Wikia is a free-to-use site that makes money from advertising. We have a modified experience for viewers using ad blockers

Wikia is not accessible if you've made further modifications. Remove the custom ad blocker rule(s) and the page will load as expected.