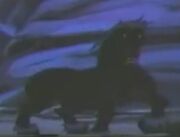 The Man-Eating Mares are a species of wild, carnivorous horses that once belonged to the King of Thrace.
Role in the Series
Hercules was sent to defeat a mare by Phil. However, he became too discouraged to fight, due to the constant depressing and worrisome rambles of the imp Neurosis. It is later discovered that the imp was sent by Hades in order to destroy Hercules' will to fight.
Trivia
In Once Upon a Time, the Man-Eating Mares appear; one of Hercules' twelve medals is a representation of the monsters.
In the original myth, defeating the man-eating Mares was Hercules' eighth labor.
Ad blocker interference detected!
Wikia is a free-to-use site that makes money from advertising. We have a modified experience for viewers using ad blockers

Wikia is not accessible if you've made further modifications. Remove the custom ad blocker rule(s) and the page will load as expected.