Ad blocker interference detected!
Wikia is a free-to-use site that makes money from advertising. We have a modified experience for viewers using ad blockers

Wikia is not accessible if you've made further modifications. Remove the custom ad blocker rule(s) and the page will load as expected.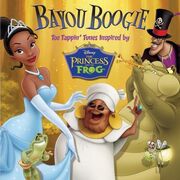 "Mama Odie's Kitchen Song" is the fifth track on the CD Bayou Boogie. It was written by Aris Archontis, Jeannie Lurie, Chen Neeman and performed by Jennifer Lewis.
Lyrics
We've been simmerin' all day
Like a pot of rice and beans
Now it's comin' along, gotta season an' salt
With the flavor of New Orleans
And let you whip up a little zydeco
And roll in all that jazz
Infuse with the blues and here we go
This party's got the flavor
Come on and pull up a seat at the table
It won't be too long now
We been cookin' up this rhythm
And stirrin' up the south
We're gonna taste that good ol' snare drum
And crack it nice and loud
Gonna bring it to a boil and keep on dishin'
If you can't take the beat, get out of the kitchen
Yeah, you got it, baby
Mama gon' feed you now
Watch out
I was servin' up this feast
And there's plenty here for you
Trust the spoon, you're gonna love this tune
And here's what you need to do
Come on and pull up a seat at the table
It won't be too long now
We been cookin' up this rhythm, ooh yeah
And stirrin' up the south
Whoa, we're gonna taste that good ol' snare drum
And crack it nice and loud
Gonna bring it to a boil and keep on dishin'
If you can't take the beat, get out of the kitchen
Uh, hear those drumsticks
That's it, baby, that's it
Play down that bouilla-bass
And salt and pepper add it
Right there, right there
Whoa, that sounds so good
Good taste with everything
Oh, come on and pull up a seat at the table
It won't be too long now
We been cookin' up this rhythm, oh yeah
And stirrin' up the south
We're gonna single out the cymbal
And the rushin', spinnin' round
We're gonna bring it to a boil and keep on dishin'
If you can't take the beat, get out of the kitchen
Go, get out of the kitchen
I said, go, get out of the kitchen
'Cause I'm makin' me some gumbo