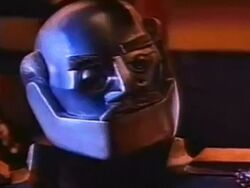 Major Domo is a character from the 3-D film and theme park attraction Captain EO.
Major Domo is a robotic security officer on the ship captained by Captain EO. Another small robot, Minor Domo, fits like a module into Major Domo. He can transform into musical instruments and the other crew members begin to play the various instruments.
Gallery
Ad blocker interference detected!
Wikia is a free-to-use site that makes money from advertising. We have a modified experience for viewers using ad blockers

Wikia is not accessible if you've made further modifications. Remove the custom ad blocker rule(s) and the page will load as expected.