Major
Background information
Feature films
Cinderella
Cinderella II: Dreams Come True (possibly)
Cinderella (2015 film)
Short films
Television programs
Video games
Cinderella: Magical Dreams
Disney Princess: Enchanted Journey
Meteos: Disney Magic
Kingdom Hearts: Birth by Sleep (cameo)
Disney Princess Enchanting Storybooks
Park attractions
Cinderella's Golden Carousel
Cinderella's Fairy Tale Hall
Portrayed by
Portrayed by
Animators
Voice
Performance model
Designer
Inspiration
Honors and awards
Character information
Full name
Other names
Frou
Personality
Kind, friendly, good, funny, loyal.
Appearance
Slender gray horse, darker-gray man, gold hooves, gold head brush on his head gold belt with red jewels on them (when on Cinderella's wedding party)

(In his coachman form; as a human): Apparently completely bald, fair skin, thick black eyebrows, white wig with red bow as the back of his head, coachman uniform consisting of an aqua soldier coat with blue turtleneck collar, cuffs, and each thick vertical line with each pair of white buttons on both ends vertically on his chest and aqua pants, blue knee-high socks, periwinkle colonial-style boots with rectangular aqua outlined buckles, pirate-style hat

Occupation
Cinderella's horse
Alignment
Affiliations
Alignment
Good
Goal
To take Cinderella to the ball
Home
Cinderella's Chateau (formerly), King's castle
Relatives
Pets
Allies
Cinderella flim: Cinderella, Cinderella's father, Jaq and Gus, Bruno, Mice, Birds, Prince Charming, Fairy Godmother, The King, The Grand Duke, Anastasia
Kingdom Hearts: Terra
Minions
Enemies
Lucifer, Lady Tremaine, Drizella, Anastasia (formerly)
Likes
Dislikes
Powers and abilities
Speed, strength
Weapons
Hooves
Fate
Live in the king's castle with Cinderella, Jaq and Gus, Bruno, and other animal friends, after Cinderella marries the Prince.
Quote
"Cough, cough"
[Source]
Major
(alternatively named
Frou
in the Enchanted Stables book collection) is
Cinderella's
horse as well as friend of the
Mice
and
Bruno
from
Cinderella
. Major originally belonged to
Cinderella's father
, but her father later gave Major to
Cinderella
as a gift before his untimely death.                                                                                    
Background
Major was given to Cinderella when she was a little girl by her father. After Cinderella's father died, Major was put outside. He is friends with Bruno and Cinderella.     
Personality
Major is not given a distinguished personality other than that he is a loyal friend of Cinderella. While he is not treated properly by Lady Tremaine or her daughters, Cinderella offers enough love for the horse. It indicates that he dreams of becoming royalty like Cinderella. Evidence of this appears during the Fairy Godmother's visit where he was excited about becoming the horse of the carriage (although he was happy with becoming a coachman instead) and when he led the palace horses with pride for Cinderella's honeymoon.
Appearances
Cinderella
In the first Cinderella movie, Major is first shown having breakfast with Bruno, their mice friends, and the chickens, thanks to Cinderella giving the seeds to feed the chickens and her mouse friends.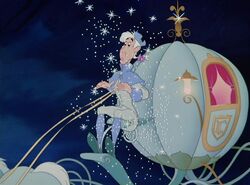 In the middle, Major sleeps in the barn with Bruno, but they wake up to watch Cinderella run off to the garden wearing a torn dress that was destroyed by Anastasia and Drizella. Major and Bruno follow her, looking sad for Cinderella as she is crying about not going to the ball, then a fog with sparkles stars is heading to Cinderella, which turns out to be the entrance and appearance of the Fairy Godmother. Major expects he will pull the carriage, but instead, he is turned into a coachman by Fairy Godmother in order to take Cinderella to the ball, much to his joy and excitement. At the stroke of midnight, when the spell is broken, he is turned back into a horse. With Cinderella, Bruno, and the mice, Major runs behind the bushes, away from the palace guards who go past the pumpkin and smash it. Major is shown to be happy that Cinderella had fun at the ball and danced with Prince Charming.
At the film's climax, Major notices the birds trying to wake up Bruno, a sight as well as the continuous chirping of the birds that make Major realize that Cinderella is in trouble, so he helps the birds wake up Bruno by whinnying as loud as possible to allow the dog to scare Lucifer (who has trapped Gus and the key—which is stolen from Lady Tremaine—under a bowl to prevent Cinderella's exit) away from the door to Cinderella's room. Major is last seen pulling Cinderella and Prince Charming's carriage as the lead horse, along with their other horses, to take the newlyweds on their honeymoon.
Major briefly appear in Cinderella II: Dreams Come True. In the first segment, he is one of the horses pulling Cinderella and Prince Charming's carriage. In the second segment "Tall Tail" as the horse Cinderella used to travel out of the castle.
However, he did not appear in Cinderella III: A Twist in Time, probably due to budget reasons.
Live action appearance
Major appears in the live action film as Cinderella's horse. His name wasn't mentioned.
Video Games
In Cinderella's world, Major can be spotted in his stable at Cinderella's chateau.
Major appears in the video game while Fairy Godmother uses her magic wand to pop all the red bubbles, in order to turn him into Cinderella's coachman.
Major appeared in the game Meteos: Disney Magic.
Major makes a cameo appearance in his coachman form in this game.
Major appeared in the video game Disney Princess Enchanting Storybooks.
Gallery