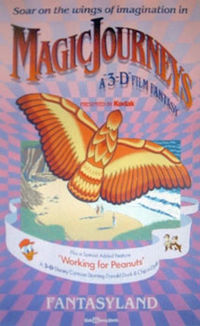 Magic Journeys was a 3-D movie shown at Walt Disney World from 1982 to 1993. The attraction opened on October 1, 1982 in the Magic Eye Theater in the Journey Into Imagination Pavilion at EPCOT Center as one of the opening day attractions for the park. It closed in 1986 and was replaced by Captain EO. The film was later shown in the former location of the Mickey Mouse Revue in the Fantasyland Theater in the Magic Kingdom from 1987 to 1993. The attraction was then replaced by Legend of the Lion King.
Starting on June 16, 1984, Magic Journeys also began a two-year run at Disneyland, first on the outdoor Space Stage, running there at night, and then inside the newly constructed Magic Eye Theater in Tomorrowland. In early 1986, the film was removed from Disneyland, as at EPCOT, to make way for Captain EO.
Magic Journeys also debuted at Tokyo Disneyland on January 17, 1985, replacing The Eternal Sea, a film shown in a 120° format and explored man's relationship with the sea. At Tokyo Disneyland, Magic Journeys ran until 1987, when it was also replaced by Captain EO.
Preshow
The preshow starts out with the 1953 Donald Duck and Chip 'n' Dale cartoon Working for Peanuts.
Plot
Magic Journeys looked at the world through the eyes of a child. The film started with children running through a meadow and looking at clouds. Someone blew on a dandelion and the seeds then flew away, turning into stars and then turned into the sun. Next the kids were seen flying a kite at the beach. The kite then turned into a bird, a fish, a school of fish, a flock of birds, bird wings, a Pegasus, a horse and then finally into a merry-go-round. While the children rode the carousel, they began reaching for a brass ring spinning next to the carousel; the carousel spins around the moon and bats fly out past the riders. The moon becomes a witch, a mask, an Olmec head, and more until turning into a cat. A boy reaches out to the cat and it turns into the Sphinx, which turns into a lion jumping through a hoop in the circus. Trapeze artists and acrobats fly through the air and several clowns amuse the children.
Soundtrack
The film's preshow song, "Makin' Memories" and the film's theme song, "Magic Journeys," can be found on the 1991 CD The Official Album of Disneyland and Walt Disney World. Both songs also appear on the album "The Sherman Brothers Songbook".
Gallery