"
Magic Earmuffs
" is the second segment of the fifteenth episode of the first season of
The New Adventures of Winnie the Pooh
that originally aired on ABC on December 24, 1988.
Plot
One winter day Christopher Robin rushes off to go play with his friends in the snow but not before his mom tells him to wear his earmuffs while going out. When Christopher Robin meets up with Pooh and Tigger Pooh asks why Christopher Robin must always wear his earmuffs to which Tigger replies his toes will get cold. To which Christopher Robin says that he has to wear them because of his Mom's overprotection of him.
Christopher Robin then pushes their sled and then the 3 go sledding off into the snow eventually bumping into Piglet who lands in Pooh's arms. When Piglet asks where they're going Pooh says skating. On the ice Pooh, Tigger, and Christopher Robin join Rabbit, Owl, and Eeyore for skating while Gopher fishes nearby but Piglet is too afraid to step on the ice. Then Roo shows up and asks if anyone wants to play ice cookie to which Christopher Robin asks if he was referring to ice hockey. Roo tells him that the name has to be changed because he's out of hockey pucks and his mama gave him an oatmeal cookie.
Tigger and Christopher Robin decide to be the captains of the 2 teams to which Tigger picks Roo, Eeyore, and Owl for his team while Christopher Robin chooses Pooh, Rabbit, and Piglet for his team but Piglet rejects and runs away, telling his friends he has to mow his lawn. While the 2 teams play the game Pooh finds Piglet up a tree and ask him why he's up there to which Piglet replies I can't skate. Then the tree branch breaks and Piglet lands on the ice cookie and Rabbit hits it into the snow. Afterwards Christopher Robin comes forward and asks Piglet what's wrong to which Pooh tells him that Piglet can't skate and feels ashamed about it to which Christopher Robin and the others decide to teach him. 1st they try putting small Skates on Piglet to which it almost works but Piglet loses his balance once Christopher Robin lets go of him and falls down.
Second, Tigger tries to put big skates on Piglet's feet and when he pushes Piglet from behind Piglet goes skating pretty fast and flies upside down in the air and lands in the snow. As the gang tries to figure out what to next Pooh says that maybe Christopher Robin's earmuffs might work to which Christopher Robin puts his Earmuffs on Piglet's ears and then he and Pooh take Piglet to a small pond and Piglet finally can skate good and tells his friends that he can't wait to play Ice Cookie to which Pooh says the game is now called Ice Honey because Eeyore ate the cookie puck and Rabbit bought a honey jar to use as a replacement puck to which he and Christopher Robin run off to play in the game leaving Piglet to skate on his own.
After the game Owl and Christopher Robin leave to go home but Pooh, Rabbit, Tigger, and Roo stay behind and Pooh notices Rabbit's honeypot on the ice and wonders if there's any honey left in it and accidentally goes onto the ice without skates to which his friends follow him and the ice breaks into water causing the gang to be trapped on an ice burg. Piglet hears his friends' screaming and comes to their rescue. He grabs their skates and throws them to them but then the earmuffs fall of Piglet's head and land in the water and he chases them while his friends make it safely to shore. On shore the friends watch frighteningly as Piglet catches the earmuffs and almost goes over the waterfall but manages to run back up and back across the ice burgs and lands in the snow. Later the gang watch Piglet skate on the small ice and realize he doesn't need the earmuffs after all.
Characters
Cast
Gallery
v - e - d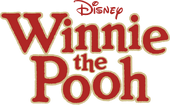 Episodes
The New Adventures of Winnie the Pooh
Season One: "Pooh Oughta Be in Pictures" • "Donkey for a Day/Friend, In Deed" • "There's No Camp Like Home/Balloonatics" • "Find Her, Keep Her" • "The Piglet Who Would Be King" • "Cleanliness is Next to Impossible" • "The Great Honey Pot Robbery" • "Stripes/Monkey See, Monkey Do Better" • "Babysitter Blues" • "How Much is That Rabbit in the Window" • "Gone with the Wind/Nothing But the Tooth" • "Paw and Order" • "Honey for a Bunny/Trap as Trap Can" • "The Masked Offender/Things That Go Piglet in the Night" • "Luck Amok/Magic Earmuffs" • "The Wishing Bear" • "King of the Beasties/The Rats Who Came to Dinner" • "My Hero|/Owl Feathers" • "A Very, Very Large Animal/Fish Out of Water" • "Lights Out/Tigger's Shoes" • "The "New" Eeyore/Tigger, Private Ear" • "Party Poohper/The Old Switcheroo"
Season Two: "Me and My Shadow/To Catch a Hiccup" • "Rabbit Marks the Spot/Good-bye, Mr. Pooh" • "Bubble Trouble/Ground Piglet Day" • "All's Well That Ends Wishing Well" • "Un-Valentine's Day" • "No Rabbit's a Fortress/The Monster Frankenpooh" • "Where, Oh Where Has My Piglet Gone?/Up, Up and Awry" • "Eeyore's Tail Tale/Three Little Piglets" • "Prize Piglet/Fast Friends" • "Pooh Moon/Caws and Effect"
Season Three: "Oh, Bottle/Owl in the Family" • "Sham Pooh/Rock-a-Bye Pooh Bear" • "What's the Score, Pooh?/Tigger's Houseguest" • "Rabbit Takes a Holiday/Eeyi Eeyi Eeyore" • "Pooh Skies" • "To Bee or Not to Bee/April Pooh" • "A Knight to Remember" • "Tigger is the Mother of Invention/The Bug Stops Here" • "Easy Come, Easy Gopher/Invasion of the Pooh Snatcher" • "Tigger Got Your Tongue/A Bird in the Hand"
Season Four: "Sorry, Wrong Slusher" • "Grown But Not Forgotten" • "A Pooh Day Afternoon" • "The Good, the Bad, and the Tigger" • "Home is Where the Home is" • "Shovel, Shovel, Toil and Trouble/The Wise Have It" • "Cloud, Cloud Go Away/To Dream the Impossible Scheme" • "Piglet's Poohetry/Owl's Well That Ends Well"
Special: "Winnie the Pooh and Christmas Too" • "Boo to You Too! Winnie the Pooh" • "A Winnie the Pooh Thanksgiving" • "Winnie the Pooh: A Valentine for You" • "Winnie the Pooh: A Very Merry Pooh Year"
The Book of Pooh
Season One: "Best Wishes, Winnie the Pooh/Double Time" • "Are You Me?/Rabbit's Happy Birthday Party" • "Circumference Equals Pirate 'Arrr' Squared/Pooh's to Do" • "Pigletry/Dinosnores" • "I Could Have Laughed All Night/X Spots the Mark" • "My Gloomy Valentine/Mr. Narrator" • "Vegetable of Contents/A Welcome to Beat the Band With" • "Owl's Book/The Autobiography of Tigger" • "You Can Lead Eeyore to Books/The Spice of Life" • "The Words Are Out/Brain Drain"
Season Two: "Please and Thank-You's/The Rumor Millstone" • "Over the Hill/Tigger's Replacement" • "The Wood Without Pooh/Friends of a Different Stripe" • "Mothers of Invention/Once Upon a Happy Ending" • "Piglet's Perfect Party/A Wood Divided" • "Bravehat/Scaredy Cat" • "Blue Ribbon Bunny/Under the Pig Top" • "The Book of Boo" • "Could it Be Magic?/Diary of a Mad Gardener" • "The Case of the Disappeared Donkey/The Littlest Dinosnore"
Songs
Movie Songs
Winnie the Pooh and the Honey Tree: "Winnie the Pooh" • "Up, Down, Touch the Ground" • "Rumbly in My Tumbly" • "Little Black Rain Cloud" • "Mind Over Matter"
Winnie the Pooh and the Blustery Day: "A Rather Blustery Day" • "The Wonderful Thing About Tiggers" • "Heffalumps and Woozles" • "Rain, Rain, Rain Came Down, Down, Down" • "Hip-Hip-Poohray"
Boo to You Too! Winnie the Pooh: "I Am Not Afraid" • "I Wanna Scare Myself"
Pooh's Grand Adventure: The Search for Christopher Robin: "Forever & Ever" • "Adventure is a Wonderful Thing" • "If It Says So" • "Wherever You Are" • "Everything is Right"
The Many Songs of Winnie the Pooh: "It Really Was a Woozle, Yes it Was"
Sing a Song with Pooh Bear: "Kanga Roo Hop" • "You're the One and Only One" • "Harvest What You Grow" • "My Song"
Winnie the Pooh: A Valentine for You: "Girls are Like Boys" • "When the Love Bug Bites" • "Places in the Heart"
The Tigger Movie: "Someone Like Me" • "Whoop-de-Dooper Bounce" • "Lull-a-Bee" • "Round My Family Tree" • "How to Be a Tigger"
Piglet's Big Movie: "A Mother's Intuition" • "With a Few Good Friends" • "Sing-Ho (For the Life of a Bear)"
Springtime With Roo: "We're Huntin' Eggs Today" • "The Way It Must Be Done"
Pooh's Heffalump Movie: "The Horribly Hazardous Heffalumps" • "The Name Game" • "Shoulder to Shoulder" • "In the Name of the Hundred Acre Wood/What Do You Do?"
Pooh's Heffalump Halloween Movie: "Trick 'R Treating With Our Friends" • "Brave Together"
Winnie the Pooh: "The Tummy Song" • "A Very Important Thing to Do" • "The Winner Song" • "The Backson Song" • "It's Gonna Be Great" • "Everything is Honey" • "Pooh's Finale"
Television Songs
Welcome to Pooh Corner: "Welcome to Pooh Corner Theme Song" • "Try a Little Something New" • "The Right Side" • "Just Say, 'Yes I Can'" • "You're the Only You" • "I Hum to Myself" • "Please and Thank You" • "Welcome to Pooh Corner Ending Theme"
The New Adventures of Winnie the Pooh: "Pooh Bear" • "'Cause It's Make Believe" • "The Floating Song" • "Nothing's Too Good for a Friend" • "Under the Bed" • "I Don't Have A Name" • "King of the Beasties" • "The End" • "Pirates is What We'll Be" • "Tigger, the Private Ear is Here"
The Book of Pooh: "Everyone Knows He's Winnie the Pooh" • "Your Best Wishes" • "On the Double" • "Who is Me" • "Think, Think, Think" • "What Piglets Are" • "I Watch for Signs" • "We're Making a Cake" • "If I Could Be Big" • "Isn't that Funny?" • "Find the X" • "Everyone Wants a Valentine" • "That's What We Do" • "Keep it Simple" • "Have You Got a Book For Me?" • "Give It a Try" • "On Your Way Back Home" • "Nightmare Wranglers" • "Carry On" • "Where Do Words Go?" • "Under a Spelling Bee's Spell" • "Adventure" • "Mental Altitude" • "I Want to Know Everything Now" • "Happy Tailiversary" • "Get Growin'" • "Tigger's Lullaby" • "Perfect Party" • "If We Were Talkin'" • "Someone New to Meet" • "My Hero" • "I Want To Be Scary" • "Broken Friendships" • "Do the Roo" • "Call Me Buck-a-Roo" • "At Chez Piglet" • "Nothing Ever Happens" • "Too Much Honey" • "Lost in a Book" • "Goodbye for Now"
My Friends Tigger and Pooh: "A Few Simple Rules" • "Bouncin'" • "The Grass is Greenier" • "The Password Song" • "Underneath the Same Sky" • "One Big Happy Family" • "Think, Think, Think" • "The Question Song" • "Floating in a Cloud" • "Different Can Be Good" • "The Little Things You Do" • "Christmas Comes Tomorrow" • "Time to Go (On a Trek Through the Snow)" • "Snowman Song"
Miscellaneous: "Luv-a-bye"