Made of Stone
Comments

0
19,085pages on
this wiki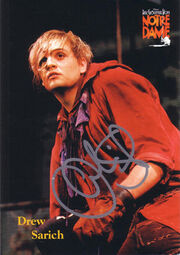 Made of Stone is Quasimodo's despair song from the stage musical version of The Hunchback of Notre Dame. The song is lifted from the movie when the  gargoyles are trying to convince Quasimodo to save Esmeralda who is moments away from her death. In the musical this scene occurs the night before Esmeralda is to be sentenced and instead of a short scene between the gargoyles and Quasimodo we have a song.
This song is Quasimodo at his angriest and most broken hearted. He is clearly angry at the gargoyles as they don't understand his pain as they are made of stone and he wishes he was like them. He regrets his emotions and wishes they would go away.
Lyrics
Quasimodo: I'm not going outside any more.
It always ends badly when I go outside.
Always badly!
Laverne: My boy, it didn't go so
Quasimodo: What do you know of me?
What of the pain
That tears my heart apart?
You're only made of stone
You stand there stupidly
You'll never know what it's like
To be made of flesh and blood
Victor: But Quasimodo, you're still
Quasimodo: Only words! You don't know what I amand what I suffer
You can't suspect how much
I envy you
How I wish
I were made of stone too
Hugo: You take everything far too hard
Quasimodo: Spare me your tricks!
Of course your words
Can change reality
What's the point of it?
Laverne: Quasimodo
Quasimodo: And you, "Fairy Godmother"! Why did you let me see
Those dreams of happiness?They held only scorn for me
No more to feel And no more to think, would be a blessing
To be a stone figure, letting the rain
Pour down
Upon a stone city
No! Too long I believed, that the stones
Held friendly spirits
But the only one I can trust now Is my master
He always used to say:
"The world hates ugliness,So darkness is your lot!"
A sentence cold as stone.
But still true
Cold and clear
You fed me hypocrisy.Now go away
And leave me alone!
Hugo: All right, Quasimodo
You're alone now
Victor: We're going, Quasimodo
We won't make any fuss
Laverne: It's true, Quasimodo
We're only made of stone
Gargoyles: But we thought
What you were made of was
Stronger,
Quasimodo: Now I'm completely alone
And "Out There"
Doesn't concern me any longer
I'll cast my longing aside
Forget what happened Never cry again
Not exist at all Through and through
As if of stone
Trivia
The title Wie aus Stein (Made of Stone) is taken from the original book when Quasimodo mournfully asks why he wasn't made of stone. He's not exactly angry in the book but more sad that he is in love with Esmeralda and can't really do anything about it.