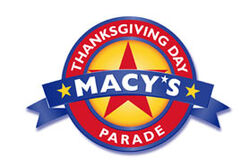 The Macy's Thanksgiving Day Parade is an annual parade presented by the U.S. chain store business Macy's. The tradition started in 1924, tying it for the second-oldest Thanksgiving parade in the United States along with America's Thanksgiving Parade in Detroit, with both parades four years younger than the 6abc Dunkin' Donuts Thanksgiving Day Parade in Philadelphia.
For many years, starting in 1934, the parade featured a variety of Disney balloons, floats and performers.
Featured Disney characters have included Mickey Mouse, Donald Duck, Kermit the Frog, Spider-Man, Goofy, Chicken Little, and Buzz Lightyear.
Gallery
Ad blocker interference detected!
Wikia is a free-to-use site that makes money from advertising. We have a modified experience for viewers using ad blockers

Wikia is not accessible if you've made further modifications. Remove the custom ad blocker rule(s) and the page will load as expected.